A quick glimpse at the V2 tobacco and mint flavors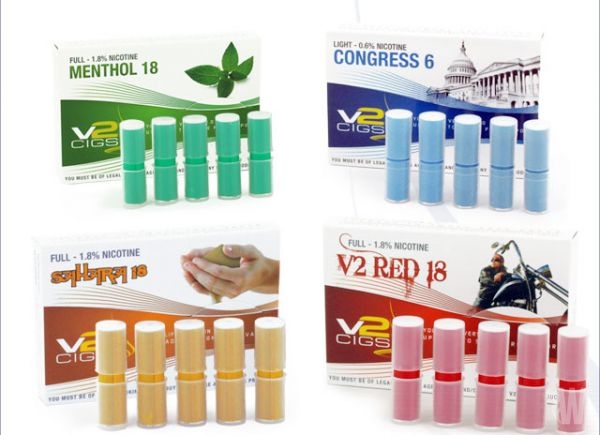 V2Cigs is one of the most popular brands of e-cigarettes with an ever growing fan base and it has managed to keep its position as a top player on the market due to constant investments in research and development and the improvement of their products on a regular basis. V2 knows that many vapers will eventually get bored of the same flavor and is always trying to impress its users with some of the best aromas money can buy.
Let us take a quick look at the variety of V2's popular flavors and decide which one is on your next shopping chart:
First of all there are the tobacco flavors, which are favored by so many recent ex-smokers that are still craving for the rich taste of tobacco every time they take a puff.
V2 Red is the brand's attempt at recreating the true authentic tobacco flavor but for the heavy smokers it still lacks the distinctive punch offered by other alternatives. It's not a bad taste; it has some hints of burnt marshmallow and a unique flavor pattern that will delight many users, and after a few puffs it will make it on anyone's list.
Congress – a bit sweeter than Red, but with a more intense chocolaty taste, this is the prefect recreation of the 'Parliament' cigarettes and one of the best tobacco flavors you'll ever taste. While still lacking in strength, the aroma is quite a masterpiece and it's the perfect choice for an 'always win'.
Sahara has a rich tobacco flavor, mixed with some hits of chocolate and nut. It is an exceptional representation of the middle-eastern tobaccos that creates the perfect balance to bring back some incredible memories. Even though it resembles 'Camel' cigarettes you don't have to be an enthusiast to love this flavor.
Secondly, let us talk a few moments about the menthol flavors, which are still the no. 2 favorite of millions worldwide.
Menthol has a strong hint of mint, accompanied by a cool and crisp feel and long-lasting flavor. For many former menthol ex-smokers it will hit the spot right on, but if you are not accustomed with this type of flavor, it might just seem a bit overwhelming at the beginning. Overall, it's a decent attempt at recreating the taste of menthols and it's worth a shot.
Peppermint is the sweeter version of menthol and it's more like a summer's breeze. With no chemical taste whatsoever this aroma is not overpowering and is a lot smoother and calmer than other mint flavors on the market. It has an extremely refreshing taste and it might just hit the spot for everyone.
Mint tea is the perfect combination of mint leaves and green tea and it has an amazing aftertaste of fresh leaves. It has a very perfumed mint aroma, very cooling and not to overwhelming. It's certainly the most distinctive mint flavors we've tried so far and we love it dearly.
RELATED REVIEWS: