V2 Cigs Disposable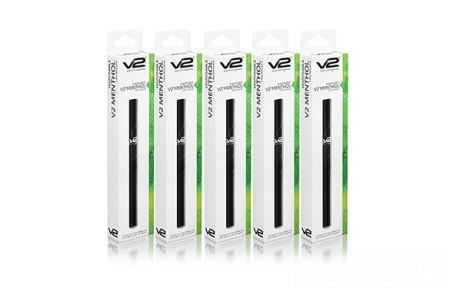 If you've been browsing the net for e-cigarettes then you've probably heard about V2 Cigs. It is one of the biggest brands in the industry and has managed to keep its name between the top five for many years. This is a result of superior product quality, reasonable prices and outstanding customer support. If you are reading this then you are probably looking for a way to experience the pleasure of vaping but without having to invest a lot of money in equipment. As you probably know, V2 starter kits have prices ranging from $35 to $160 and that might seem a bit costly to you, therefore their disposables might just be what you are looking for. V2 made the best disposable e-cigarettes that will let you benefit from a decent vaping experience with minimum investment. They offer a wide range of products to suit most tastes and needs. Their disposables come in two flavors: Traditional (Tobacco) or Menthol.
The V2 Cigs Disposables – come in 5 packs or 10 packs and are rated for 400 puffs while having only one nicotine level: 1.8%.
These devices come in quality transparent boxes and are packed individually. They have a plastic top at the end of the cartomizer to ensure a sterile first experience. They also have red-colored LED tips that light up each time you take a drag. They only come with automatic batteries, but as opposed to older versions, they offer a satisfying amount of vapor from the first drag without the need of "warming up" the atomizer first. The throat hit is excellent and the flavors are quite good. The appearance is very similar to actual analogs and each device is the equivalent of 2 packs of cigarettes.
They are not recommended though for vapers who are used to low levels of nicotine because they might just be a bit overwhelming; but for an average pack-a-day smoker this might be the best alternative. You also have the option of buying these disposables in sampler packs to get a taste and feeling of all their products and flavors.
PRO TIP: for the rechargeable version read our full V2 Ecigs review.
RELATED REVIEWS: