V2 Cigs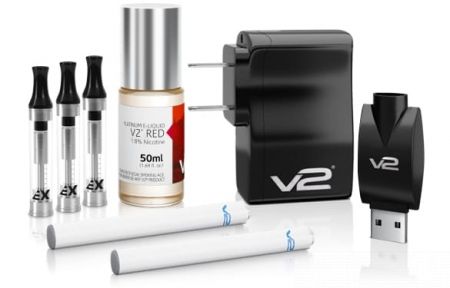 Update
The new V2 Standard E-Liquid kit includes two batteries (manual or automatic) standard or long, a 50ml bottle of e-liquid, 3 refillable clearomizers, a wall adapter and an express charger.
The old kit
V2 Cigs is an electronic cigarette brand that has been on the market for 7 years. The first thing that stands out with these e-cigarettes is the battery. They allow customers to choose a customized battery that is, you can choose the color and the type: manual or automatic. Although both battery types are very efficient, the manual one produces more vapor but, in the end they are both highly responsive. V2 Cigs products come in four different battery colors, white, black, stainless steel and blue, and in three different sizes – 67mm, 79mm, and 110mm. In terms of looks, their design is pretty sleek and innovative, but at the same time it makes it easier to get used to it as the similarities to the analogs are quite striking. Also, the presentation package is very appealing to the eye, everything looks professional and interesting.
V2 Cigs offers a wide variety of crisp flavors out of which three different tobacco blends: Red, Congress and Sahara. Other flavors include: Menthol, Peppermint, Mint Tea, Vanilla, Coffee, Chocolate, and Cherry. But, they also offer limited edition flavors such as Classic Menthol, Cola, and Grape. If you are confused by the many choices you can always purchase a ten flavor sampler and make the combinations you desire; also, it will save you some money too, until you decide on your favorite. Or you can opt for custom cartridges with flavors of your own picking, even ones that are not in their offer. Another interesting aspect is that you can purchase empty cartridges and fill them yourself with e-liquid of your choosing. Additionally, you should know that vaping on these e-cigs feels very smooth, the amount of vapor released is by far one of the best I tried and most of the flavors have a great throat hit.
V2 Cigs offers seven types of Standard Kits: Express, Economy, Standard, Standard Plus, Couples, Traveler and Ultimate, each of them being perfect for beginning a new e-cig experience. Moneywise you should know that these e-cigarettes brand will save you plenty, as the Economy Starter Kit will cost you $49.95 and the Standard Starter Kit only $64.95, and with the next purchases you'll only have to get cartridges. With V2 the larger the pack of cartridges you buy, the bigger the saving. In addition, they offer a 30-day money back guarantee, and have great customer service. The only downsize to this otherwise amazing device provided by V2Cigs is that they do not offer free shipping and the delivery might take a while. Other than that, I recommend V2 Cigs as an awesome e-cigarette brand.
RELATED REVIEWS: