V2 Trinity Vaporizer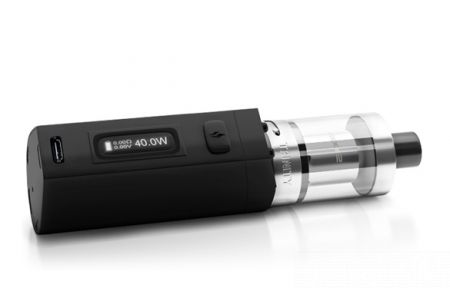 If you're looking for a compact box mod that easily fits in your pocket then the V2 Trinity Vaporizer is definitely worth checking out. This is one of the most powerful devices released by V2 and it's built for sub ohming. It's size make it the ideal travel companion and vapor quality is top notch. It comes with everything you need to enjoy a great vaping experience and is available in two different colors – black and blue.
Inside the cardboard gift box you will find the box mod, the sub ohm tank, a 1.2 Ohm atomizer, a 0.8 Ohm atomizer, micro-USB cable, and user manual. The device itself is very compact and the build quality is top notch. It features a 510 connector at the top as well as two adjustment buttons, and on the main side we see the fire button, the display and the micro-USB slot.
The V2 Trinity Vaporizer is a variable wattage compact vape mod that goes from 5 – 40W and also features temperature control. In TC mode it works with Nickel, Titanium or Stainless Steel coils. You can also use the vaporizer in bypass mode where it behaves like a mechanical mod, adjusting output power depending on the resistance of your atomizer.
The Trinity tank is made from stainless steel and Pyrex glass and features airflow adjustment. It also has convenient top fill design and swapping coils is super easy once you read the user manual. We recommend the 1.2 Ohm atomizer for mouth to lung vaping and the 0.8 Ohm coil for direct lung vaping and higher VG liquid. There are also 0.5 Ohm coils available on V2 website and these give the best vapor production and flavor.
The V2 Trinity Vaporizer is powered by an internal 1200mAh battery and this should last anywhere from 3 to 8 hours, depending on the coil you're using, power and vaping style. We found the 1.2 coils to work best at around 15W, the 0.8 Ohm coils at 25W and the 0.5 Ohm coils at 35W. Recharging the battery is done via micro-USB cable and the whole process takes around 2h.
In comparison to other V2 products, like the recently reviewed Pro 3X series ,this gives by far the best vapor production. It's lightweight, compact and easy to use. To adjust the wattage or temperature simply press on the plus or minus buttons until you find your sweet spot.
We recommend 3mg or 6mg e-liquid with the V2 Trinity Vaporizer, especially when using the sub ohm coils. Throat hit is well defined, vapor is super smooth and flavor is just perfect. The only downside is the moderate battery life, but with a device this small we didn't have high expectations.
RELATED REVIEWS: