V2 Void Vaporizer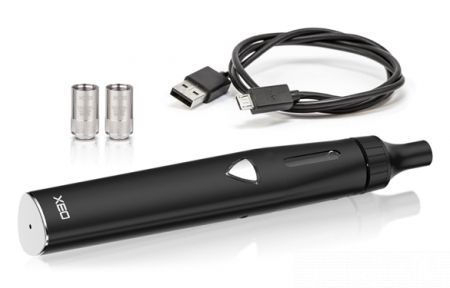 Beginners nowadays have plenty of options for a starter kit, and the V2 Void Vaporizer is one of the best. It's a chic all in one vape pen designed to work with high PG as well as high VG e-liquid and it's leak proof. With only one button to worry about it is very easy to use and it offers a nice experience to anyone looking to stay off cigarettes.
You can get the V2 Void Vaporizer in three different colors and it comes packed in a nice hard case gift box. Inside you will find the device itself, a 1.0 Ohm coil, a 0.6 Ohm coil, a micro-USB charging cable and the user manual. This particular vape pen was designed in Germany by XEO and the build quality is incredible. The finish is smooth and the device fits perfectly in your hand, making it the ideal travel companion.
The V2 Void Vaporizer has been designed with simplicity in mind and this makes it ideal for anyone making the switch from cartridges or tobacco combustibles. It comes with adjustable airflow at the top and includes two types of atomizers compatible with different e-liquids. To insert the atomizer just unscrew the top cap and mount the coil onto the chimney. Fill the reservoir with e-liquid until it reaches the max line and then assemble it back together. Allow at least 10 minutes for the juice to soak into the cotton and you're ready to vape.
The vape pen is powered by an internal 1500mAh battery which is enough to last you a full day. Take into account that the battery will drain faster when using the 0.6 Ohm coil, but it will produce a lot more vapor. An LED notification light will glow after each press of the button and this acts as an indicator on remaining battery life. The micro-USB slot is located on the side of the battery and it takes around 2 – 3 hours to fully charge it. The LED notification light will blink several times and turn on when the device is ready to use.
Just like on many products that use this leak proof system, you are going to get some flooding and gurgling from time to time but there's an easy trick you can try. Turn the device upside down, blow through the mouthpiece while holding a paper towel around the top cap. This will remove any excess liquid inside the coil and provide a smooth experience afterwards.
When it comes to performance, the V2 Void Vaporizer accounts for good vapor production and flavor, especially with the 0.6 Ohm coil. The throat hit is a bit smoother in comparison to other vape pens, and that's why we suggest a higher nicotine concentration. Something like 12mg is more than enough for most vapers and it's perfect to give you that much craved buzz.
RELATED REVIEWS: