Best E-Cigarettes & E-cig Starter kits 2020
Updated December 2019
Read our objective reviews about the best e-cigarettes available online now. The best e-cigarettes listed and rated by our dedicated team of editors and testers.
From the moment the first electronic cigarette was built until today, its structure and design evolved a lot. Probably because there are so many manufacturers, today you can choose from multiple types of e-cigarettes, liquids and kits, making the whole buying decision much more difficult. This is exactly why we decided to start Which Ecigarette: sharing our opinions about the kits we tested and help you do an informed purchase of a product.
Electronic cigarettes are battery operated devices which vaporize nicotine based substances called e-liquids. The experience is very similar to that of an actual cigarette, except for the smoke, tar and ash. These starter kits have become increasingly popular but it's a bit tricky to choose a device without testing it first.
That's how the best ecigs list was born, a section of our site where you can find the most appreciated brands according to our editors' and readers' opinion. In this process we personally test each product, from unpacking the kit, to using it, recharging and do its maintenance work. Then give a rating combining multiple characteristics, such as the battery life, vapor quantity, the persistence of the flavors and how helpful is the customer service. Every product is used by our team, and each one of them rates it, that's why you can be sure that the presence of a kit in the best ecig list is the result of it being appreciated by everyone.
Top 3 recommended e-cigarette starter kits
These three starter kits are the best money can buy. We've tested them individually and unanimously agreed they are perfect for any beginner. Leading ecig devices with great vapor production, high nicotine levels and amazing flavors.
Mig Cig Standard eCig Starter Kit
The Mig Cig Standard eCig Starter Kit one of the best cig-a-like products on the market right now. We ranked it as our number one device for three reasons: it's consistent, easy to use and has really good nicotine delivery. It includes two batteries, 10 cartridges, a charger and very nice carrying pouch. Also the selection of flavors and nicotine strengths is really good.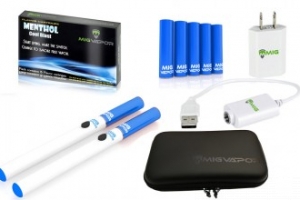 Pro's
Consistent, Dependable and Great Nicotine Delivery
Wide selection of flavors and strengths
Included carrying pouch
Cons
Not the cheapest starter kit
Contents
2 Mig Cig Batteries
2 x 5 Packs Of Cartridges
1 USB eCig Charger + wall adapter
Carrying case
MyBlu Intense Starter Kit
The MyBlu Intense Starter Kit is one of the most popular e-cigarettes on the US market. This beginner oriented device delivers great vapor quality and the throat hit is very intense. It works with pre-filled pods but these are very easy to get and there are several great flavors to choose fom.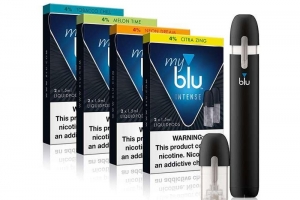 Pro's
Consistent output
Very popular and accessible
Very easy to use
Cons
Doesn't have the classic cig-a-like look
Contents
1 battery
1 tobacco pod (2.4%)
1 intense liquid pod
Charging cable
Vaporfi Express kit
We've known them since they were called Vaporzone and they currently are one of the biggest players in the electronic cigarette market. Vaporfi Express Kit offers incredible build quality and some of the best flavor cartridges out there. You can also buy different accessories separately like a portable charging case or refillable clearomizers.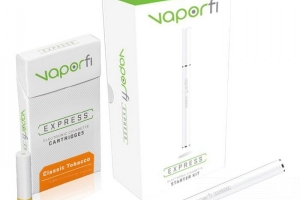 Pro's
Great build quality
Wide range of flavors
Contents
5 flavor cartridges
1 battery
USB charger
Wall adapter
Best ecig starter kits by overall performance
E-cig starter kits are all about convenience and user friendliness. These two piece cig a like devices are the top performers, therefore regardless which one you choose we guarantee you won't be disappointed.
Mig Cig Economy Kit
The Mig Cig Economy is not only our winner for best ecig kit by overall performance but it's also very affordable. It's an excellent way to get acquainted with e-cigarettes and it includes everything you need for a great experience. You get two 280mah batteries, 5 flavor cartridges and vapor production is more than decent.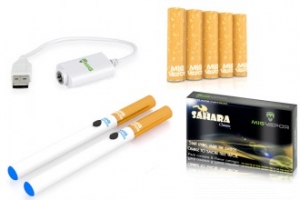 Pro's
Very affordable
Easy to use
Flavors and nicotine for all types of vapers
Cons
Vapor production is not as good as on more expensive models
Contents
5 flavor cartridges
2 x 280mAh batteries
USB charger
South Beach Smoke Deluxe
The South Beach Smoke Deluxe combines that classic cig-a-like design with a great overall vaping experience. This started kit has been particularly engineered for beginners and it offers that perfect mouth to lung draw. It's not going to blow your mind in terms of vapor production but it offers that quick nicotine fix.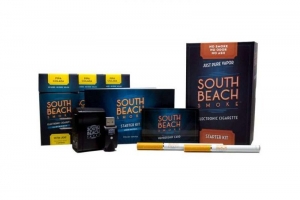 Pro's
Affordable
Great MTL draw
Good flavor
LED battery indicator
Cons
Same design for over 6 years
Contents
1 standard rechargeable battery
1 high capacity rechargeable battery
15 flavor cartridge
USB charger
wall adapter
carrying case
V4L Vapor Titan
The Vapor Titan from Vapor4Life is really impressive for cig-a-like starter kit. It includes two batteries, five cartomizers, cable and wall adapter, as well as a convenient carrying case. The great thing about this kit is that you can order it with automatic or button activated draw for even more convenience.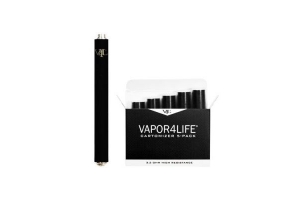 Pro's
Affordable
Automatic or manual battery
Comes with 5 cartridges
Cons
Battery life could be better
Contents
5 flavor cartridges
2 batteries
USB charger
Wall adapter
Carrying case
Best Ecig starter kits for vapor production
Electronic cigarette starter kits might look similar but if you're more interested in vapor then these are our top choices. Each ecig in this category score highest for vapor production and flavors also hit the spot perfectly.
Mig Cig Standard PLUS
If you're looking for an e-cigarette that delivers a lot of vapor then you can't go wrong with the Mig Cig Standard PLUS kit. Besides the standard batteries, this also includes a supercharged unit that's built to impress. You also get 2 five-packs of cartridges in the flavor and nicotine concentration you prefer.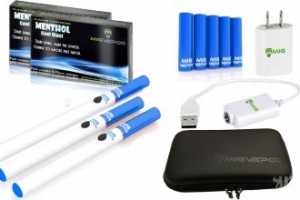 Pro's
Some of the best tobacco flavors
Excellent build quality and vapor production
Cons
Battery life could be better
Contents
5 flavor cartridges
2 batteries
USB charger
Wall adapter
HALO G6 Starterkit
When it comes to vapor production and flavor you simply cannot go wrong with the G6 ecig starter kit from Halo. It includes 5 cartomizers which can be pre-filled or blank and two high performing batteries. Also this brand has some of the best tobacco flavors in the world and they come in a variety of nic concentrations.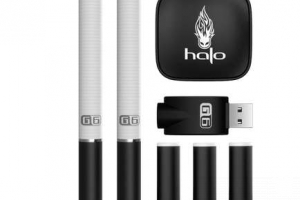 Pro's
Some of the best tobacco flavors
Excellent build quality and vapor production
Cons
Battery life could be better
Contents
5 flavor cartridges
2 batteries
USB charger
Wall adapter
White Cloud Cirrus 3X kit
White Cloud Cirrus 3X ecig kit is one of the most advanced two piece cig-a-likes out there. Batteries take only 2h to charge but they deliver vapor for more than 4h and the flavors are to die for. And you get not one but three batteries to always be able to enjoy you smoke free passion.
Pro's
Comes with 3 batteries
Excellent flavors
Great build quailty
Contents
5 flavor cartridges
3 batteries
USB charger
Wall adapter
Best quality to price ecig starter kits
When it comes to ecig starter kits with the best quality to price ratios here are the top contenders. We individually tested each of these electronic cigarette and ranked them according to their overall performance and total monthly cost.
Mig Cig Basic eCig
The Mig Cig Basic eCig offers really great value for money. It's the perfect starter kit for beginners and comes with a single battery and five cartomizers. You get a basic USB charger but the battery has impressive autonomy for its size.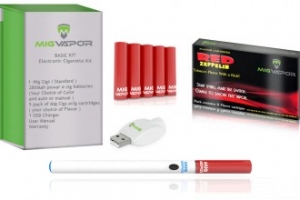 Pro's
Affordable
Nice variety of flavors
Pretty good battery life
Contents
1 rechargeable battery
5 flavor cartridges
1 USB charger
Smoketip Ecig starter kit
Smoketip have been the first ecigs we tested here and they are still some of the best. The kit come packed in a beautiful wooden gift box and it's highly customizable. There are dozens of flavors to choose from and four different nicotine strengths. Some cartomizers even come with a soft tip, that's almost identical to the one used on actual cigarettes.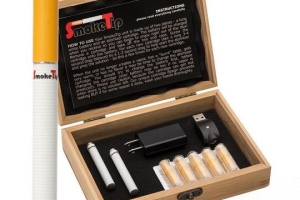 Pro's
Great assortment of flavors and nic strengths
Cost effective on the long run
Contents
10 flavor cartridges
2 batteries
USB charger
Wall adapter
Apollo Challenger kit
The Apollo Challenger Kit is different than all the others. It doesn't come with any included cartomizers however it features two great batteries, a wall charger and even a car charger. You're limited to only two flavors, but there are five nicotine level to choose from. Throat hit is one of the best we tried.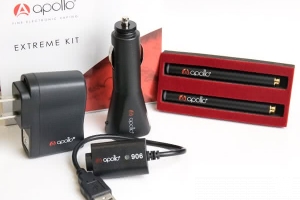 Cons
Doesn't come with cartridges in the box
Contents
2 batteries
Car charger
USB charger
Wall adapter
E Cigarettes and ecig starter kits Information & Recommendations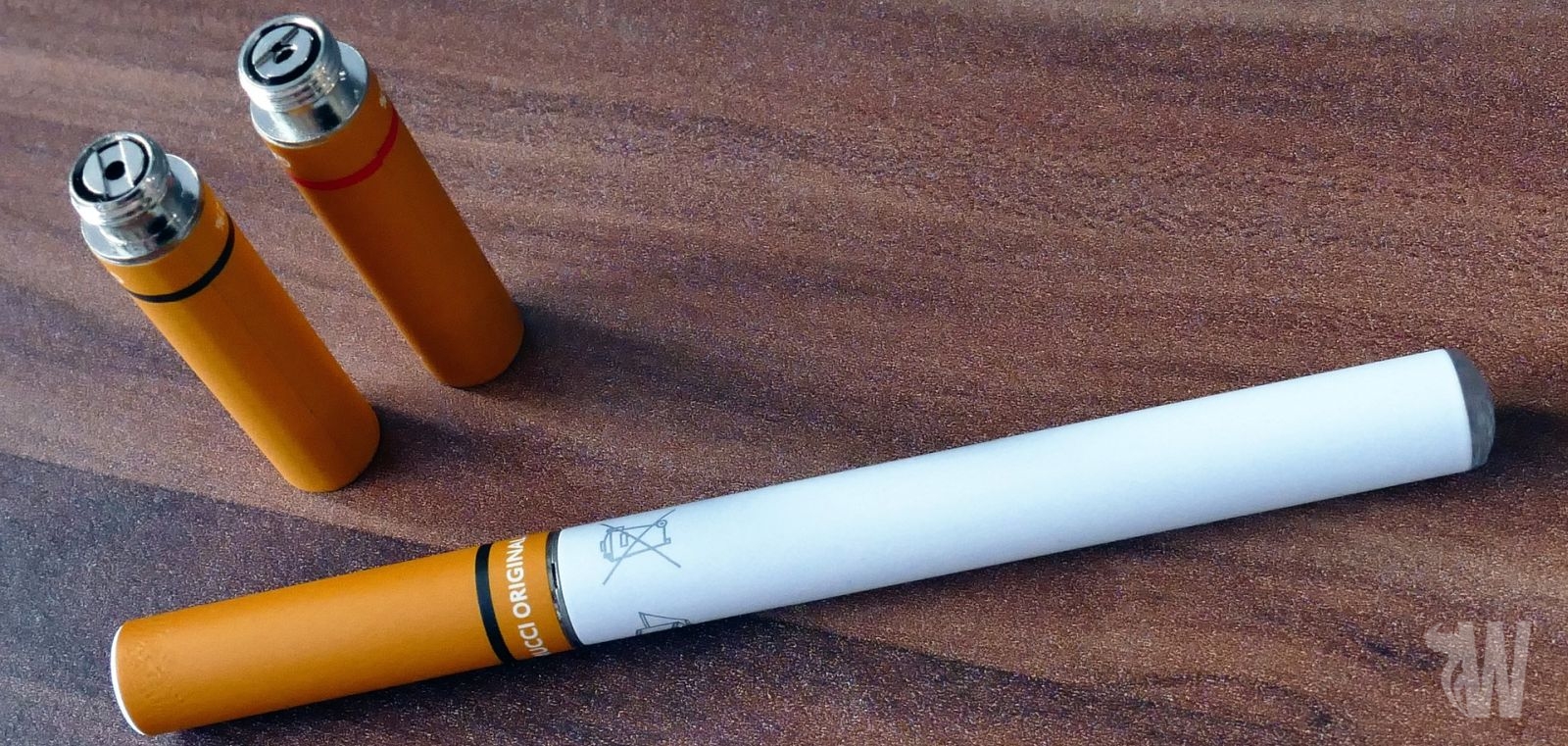 What are E-cig starter kits?
Starterkits contain a set of ready to go e-cigs. The electronic cigarettes consist out of two parts: a battery and a cartomizer. The cartomizer is detachable and screws onto the battery. They are designed in a way to mimic the looks and performance of regular cigarettes. The battery usually has a capacity between 150 - 300mAh and it's fully automatic. This means that it activates each time the user takes a puff. It's easily recharged via USB with the provided adapter. The cartomizer includes an e-liquid reservoir and a coil. Power from the battery heats up the coil and vaporizes the e-liquid in a process commonly referred to as vaping.
What's inside the electronic cigarette starter kit boxes?
With an e-cigarette starter kit you usually get a battery, a pack of cartomizers, a charging cable and a wall adapter. Each cartomizer is equivalent to a pack of cigarettes and battery life varies between 2h - 4h depending on brand and style of vaping.
Common E-cig features
In the case of two piece e-cigarette the battery can be recharged. This is done via a proprietary connector that gets plugged into an USB port or wall adapter. Cartomizers are the disposable parts of electronic cigarettes and each one lasts for a limited number of puffs. These are available for purchase in 5 packs, with flavors and nicotine strengths depending on the manufacturer.
Why are e-cigarettes so popular
Electronic cigarette starter kits are popular because they are cost effective, easy to use and don't produce combustion. You can save a lot of money with e-cigarettes, especially if you live in a city or state with a high tobacco excise tax. Some smokers spend up to $200 on cigarettes per month, even more, while the standard price for an e-cig kit is around $50. Sure, you have to pay for cartridges or e-liquid but this doesn't come close to tobacco cigarettes.
How to use your e-cigarette
E-cigarettes are very easy to use. They don't require any experience or extra skills and they don't leak. You simply need to screw on a cartomizer and the battery will activate automatically each time you inhale through the mouthpiece. The draw is pretty tights and it's very similar to what you will find on a traditional cigarette. To recharge the unit remove the cartrige and mount the USB adapter. An LED notification light will let you know when the process is complete.
Finding the right ecig
Cig-a-like starter kits are mostly intended for beginners. These products ensure good vapor production and nicotine satisfaction, however they cannot compete with more powerful devices. For around $50 - the average price for a kit - you get two batteries, a charger and a pack of cartomizers. This is more than enough to give electronic cigarettes a try and decide which is your favorite flavor. And if you choose one of the best e-cigarettes from the list above you can rest assured it's going to work without issues.

Our final words on the best ecig starterkits in 2020
One thing you must understand about the best e cigarettes and ecig starter kits list and is that it doesn't follow anyone's personal opinion and it is in a constant movement, so if you don't agree, please submit your opinion. We also communicate with each brand's support team, and tell them about the features you'd like for the future electronic cigarettes, so good communication with us could be the way to get what you want. Follow the best ecig category for new entries, see how appreciated each brand is and how satisfied its customers are, and don't forget to order your favorite electronic cigarette.