DaVinci IQ Vaporizer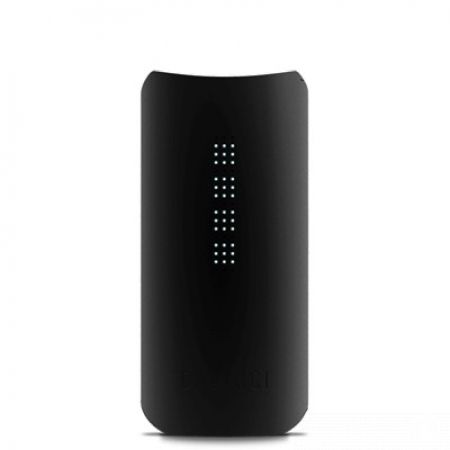 The DaVinci IQ vaporizer is one of the few high end dry herb devices to work with a removable 18650 battery. It heats up the oven through conduction and thanks to its revolutionary design, flavor is one of the best we tried. The ceramic Zirconia air path plays a major role in this and it's pretty revolutionary.
This dry herb vaporizer also has built in Bluetooth technology and you can connect to it via a smartphone app. With this app you can set everything from current vaping temperature to a series of smart paths. These smart paths are like the temperature curves on a mod and you can set different temperatures for different time intervals of your session.
What you're getting out of the IQ box
The DaVinci IQ vaporizer comes beautifully packed, with a lot of attention to details. Inside you will find the device itself, the Zirconia mouthpiece, a carry can, cleaning wipes, cleaning brush, charging cable, the user manual, and a key chain chamber packing tool. You also get a high drain LG battery with this bundle deal and you're all set for vaping.
The design and looks of the Davinci IQ Vaporizer
It's a very light and portable device, measuring 90 x 42 x 24mm and weighing little over 140 grams. Materials used and build quality are just top notch and the oven, air path and mouthpiece are made from Zirconia. This not only cools down the vapor but also enhances flavor and accounts for one of the best dry herb experiences ever.
The mouthpiece is rather long but feels very comfortable and the oven door has a Zirconia ball attached to it which helps heat up the plant mixture from all sides. This accounts for even conduction and a perfect vaporization of all essential oils.
On the DaVinci IQ vaporizer you will see 51 small LED notification lights shaped like a grid. These will show various indicators about the device and they also work as a display when adjusting temperature.
Preset temperatures
Davinci IQ smart paths You can use the vape in either precision temperature control or smart path mode. With the Bluetooth enabled on your smartphone and the Davinci app installed you can quickly set up up to four profiles. This will control exactly how the device initially heats up and how it will adjust temperature as you go on enjoying your session. You can also select a fixed vaping temperature between 250 – 430F. Due to the way the DaVinci IQ vaporizer is designed, the dry herb material easily slides in the oven even when you spill it on the sides. Just use the key-chain tool to compact it inside the chamber and you're all set.
The IQ's performance
The DaVinci IQ vaporizer is our number one choice for far. It's the best dry herb device we ever tested and the Zirconia mouthpiece and air path make all the difference. Flavor is outstanding, vapor production will surprise you and the build quality is flawless. Of course, this is quite an expensive dry herb vaporizers but its performance matches the price tag. We were a bit concerned about the Zirconia elements cracking with time but we haven't had such issues. Everything is durable, intuitive and a pleasure to use.
RELATED REVIEWS: