5 Popular low output vaporizers we like - our favorite vapes for nic salts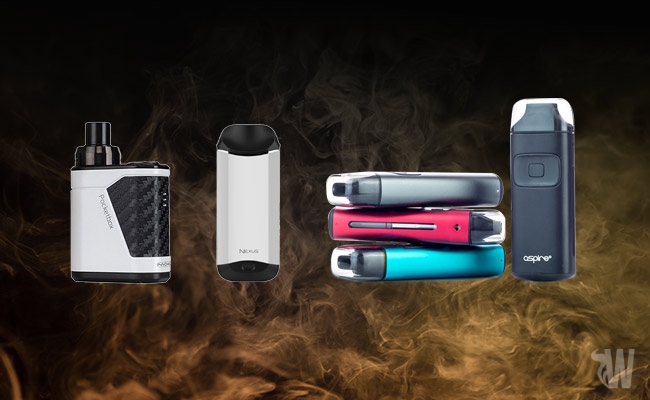 Low output vaporizers are tiny, ultra-portable all in one devices which work very well with nicotine salts e-liquids. They usually have an output of between 11 – 18W and battery capacity ranges from 350 – 650mAh. These vaporizers have become increasingly popular in the last few months so we decided to present our 5 personal favorites.
5. VaporFI Vaio Mini
The VaporFI Vaio Mini is a very pleasant surprise. Despite its petite form factor this vape boasts an impressive 1000mAh battery and e-liquid capacity is 2ml. The fill port is conveniently placed on the front of the device and coil resistance is 1.0 Ohms. We like the fact that it comes in a variety of colors and the finish is rubberized and offers good grip.
This tiny vape offers a nice mouth to lung type of draw, with on the spot vapor production and flavor. It's easy to use, easy to refill and battery life is one of the best in its category.
4. Aspire Breeze
The Aspire Breeze is probably one of the most iconic portable all in one vaporizers from the past 12 months. It features a non-removable 650mAh battery, recharge times of 50 minutes and some of the best coils we tried. This device is available in a multitude of vibrant colors and there's even a special edition Rainbow option. Reservoir capacity is 2ml and this makes it fully compliant with European TPD regulations.
One of the key features of the Breeze is the ability to use it as button activated or draw activated, depending on personal preference. The pull is pretty tight and suitable for mouth to lung use, but you can also take direct lung inhales from it without issues.
3. Innokin Poketbox
The Innokin Poketbox is one of the newest all in one devices we tested and it definitely makes a good first impression. Build quality is surprisingly good for a vape this affordable and it boasts an internal battery of 1200mAh. Maximum output is 40W, which makes it also one of the most powerful in this category.
The Pocketbox works with two different types of coils. We have a 1.2 Ohm – mouth to lung style atomizer as well as 0.35 Ohm – direct lung style atomizer. Tank capacity is 2ml and the device is available in two colors with carbon fiber inserts.
2. Vaporesso Nexus
The Vaporesso Nexus is one of the most technologically advanced pocket style all in one vaporizers and one of the first to feature temperature control. It comes with three selectable temperature presets as well as with a new generation of ceramic coils. Battery capacity is 650mAh and maximum output is 12.5V.
Tank capacity on the Nexus is 2ml and this tiny vape also comes with a variety of safety features including short circuit protection, low liquid detection, and overcharge protection. You can get it in over 8 different colors and it's activated on draw.
1. Aspire Breeze 2
Stepping on the footsteps of its predecessor, the Aspire Breeze 2 is our favorite low output all in one vaporizer. Equipped with a bigger 1000mAh battery, this tiny vape also has a more generous e-liquid reservoir, with a total capacity of 3ml. Besides the standard 0.6 Ohm coil, this device also comes with a new 1.0 Ohm U-Tech coil which has been engineered for nicotine salts.
The Breeze 2 has adjustable airflow and it's activated either by draw or by pressing on the fire button. It is available four different colors and there's even a 2ml option for the European markets.
RELATED REVIEWS: