V2 Alternative vapes - Similarly performing ecigs you can easily get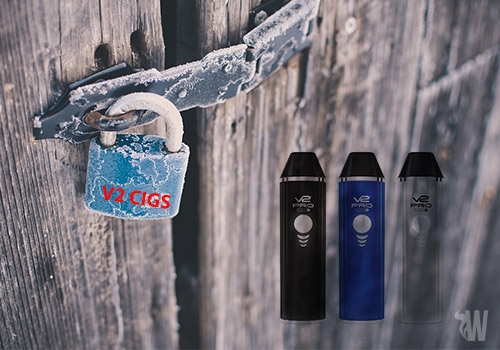 V2 permanently closed down in November 2019 and since then we've been getting numerous questions from our readers. People want to know if there are any good V2 alternative vapes out there or if their favorite ecigs are compatible with accessories from other manufactures. And luckily for everyone we did find several big brands that offer compatible batteries and cartridges as well as similarly performing vape pens of vaporizers in general.
V2 Pro alternatives
The V2 Pro Series 7 and the V2 Pro Series 3X were probably the most popular vaporizers from VMR Products LLC. These were both 3-in-1 devices, which meant they worked with e-liquids, dry herb and even waxes. Unfortunately there aren't any similar products on the market right now; however we can recommend great vapes for each of those categories.
The G-Pen Elite is the perfect dry herb replacement for the V2 Pro series 7. The device features a bigger chamber, more precision in terms of temperature and great flavor. If you are looking for something slimmer that would replace the V2 Pro Series 3X then we recommend the Atmos Jump. This is pen-shaped dry herb vaporizer with fast heating times and a 1200mAh battery.
When it comes to e-liquid, here is where you will find plenty of V2 cigs alternatives. Big pen vaporizers like the VaporFI Rocket 3 or the SMOK Resa Stick can easily replace the Series 7. Smaller pens like the VaporFI Vaio Go have similar if not better performance than the Series 3X or the V2 Void.
V2 Trinity mod alternative
The Trinity was V2's one and only box mod. It had a maximum output of 40W and worked great with the included sub ohm tank. It was portable, easy to use and ideal for beginners.
In our opinion the Wismec Active 80W starter kit is a very good V2 Trinity mod alternative. This is also suitable for beginners, offers more power and a lot more vapor. The iJoy Capo 100W is also an excellent compact starter kit with lots of power and unbelievable performance.
V2 e-cigs alternatives
V2's starter kits were excellent and that's why so many people have become vapers by using their cig-a-likes. The good news is that many big companies offer products which are directly compatible with some of these V2 ecig kits.
The Extreme kits from Apollo are compatible with V2 Standard cig a like starter kits. Their chargers and batteries are interchangeable and offer similar performance. Also some of their e-liquids come close to V2's most popular pre-filled cartridges.
MigVapor is another place you can go look for V2 cigs alternatives. Their Clear Fusion MAX tanks are interchangeable with EX cartridges and deliver more vapor. Another thing to consider is the Clear Fusion kit, which is compatible with V2 standard kits. Also flavors like Menthol Cool Blast and Red Zeppelin will seem very familiar to old time V2 users.
Last but not least we have VaporFI, which offers starter kits very similar to V2 Standard. Their VaporFi Express cig-a-likes are almost the same and the menthol and tobacco come really close to the flavors you're already used to.
RELATED REVIEWS: