Apollo e-cigars disposable review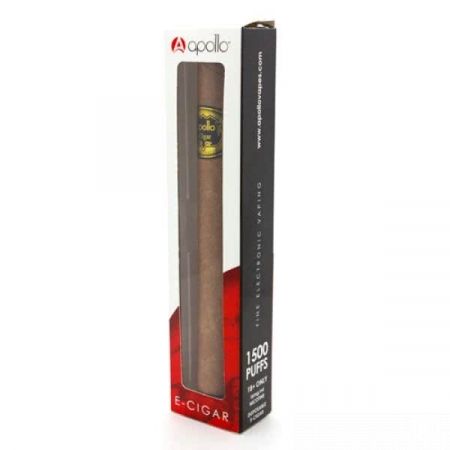 What better way to celebrate a win than with Apollo e-cigars? These high quality disposables have that authentic Cuban flavor and they deliver vapor like no other. Rated for up to 1500 puffs they don't require recharging or refills and the battery lasts for a very long time.
Apollo e-cigars come individually packed in rectangular cardboard boxes with the product being visible behind a transparent plastic film. They replicate an actual cigar with much attention to detail but without the flame, ashes, tar or smoke.
The cool thing about this device is that it also smells like an actual cigar as soon as you take it out of the box. It has a nice Apollo sticker on the top and the finish imitates hand rolled tobacco leaves. The plastic ash tip looks pretty realistic, especially as it lights up red each time you take a draw. It also has a slight dim to it to make the experience even more realistic.
The Apollo e-cigars have a built in 1300mAh battery and that's more than reasonable to get over 1000 puffs out of them. You're probably not going to get as high as 1500 but we estimate around 1200 – 1300 good draws. Nicotine concentration on them is 16mg and that's more than enough for a nice authentic throat hit.
Flavor on these disposables are spot on and it shows Apollo went the extra mile and put a lot of effort in designing the products. If you smoked cigars before you will be impressed with how these taste. Dry, rich tobacco with just a few subtle sweet notes and a very satisfying flavor. These e-cigars are perfect for parties and for sharing with friends. Apollo even offers a discount when you buy more than five and this way you get one for free.
Apollo e-cigars are some of the best disposables out there and they mimic Cubans to the last detail. They are reasonably priced and they are the perfect treat for when feeling victorious. There's only one flavor and one nicotine strength but you know you get the same quality with each puff.
RELATED REVIEWS: