Artery Nugget 50W Box Mod Kit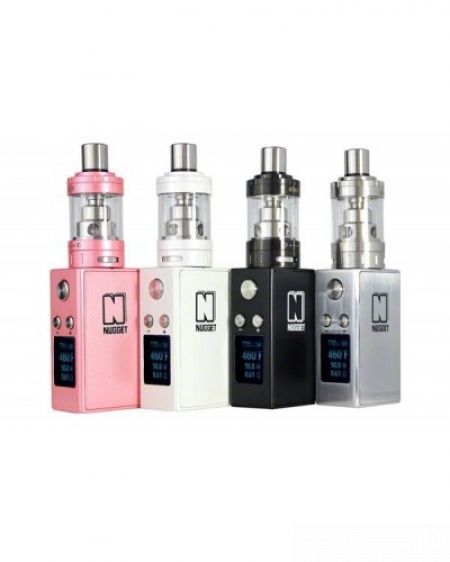 When it comes to ultra stealthy kits there are a few options out there these days, but none of them as sexy as the Artery Nugget in our opinion. This rectangular zinc alloy tiny box mod combo comes with the 49-er tank on top and the end result is a pretty impressive vaping experience out of the 1000mAh internal battery.
The Artery Nugget comes packed in a flip top white box and inside you will find mod itself, the tank fitted with the 0.5 Ohm Kanthal coil, a micro-USB charging cable, a bag of spare O-rings, a spare TC 0.2 Ohm coil and a very detailed user manual.
The mod is incredibly tiny but rectangular in shape and it measures 55.5 x 31 x 22mm so it will only work flush with your 22mm diameter tanks. There are a few options of low profile 22mm tanks out there designed both for sub ohming as well as for mouth to lung and depending on the resistance of the coil and the wattage you'll be able to extend the battery life.
On the top side of the Artery Nugget there's the 510 connector with a gold plated, spring loaded pin and going down the main side we can see the fire button, the display and the two adjustment buttons. The micro-USB slot used for charging and firmware upgrades is located on the face of the vape box mod, right next to the "Artery" logo. The device is powered by an internal (non removable) high drain 18350 battery that's rated at 1000mAh and the charging current hits a maximum of 800mAh, so you should fully recharge it in about 1h and 15 minutes.
This tiny mod can go from 5W all the way up to 50W (0.5V – 8.0V) and it has a maximum discharge current of 20A. It can fire as low as 0.1 Ohms and it does temperature control with Nickel and Titanium coils. You can use it in voltage mode, power mode (vw mode) and temperature control mode and we didn't encounter any issues with it whatsoever.
The 49er tank that comes inside the box is a great match for the Artery Nugget in terms of performance. The 0.5 Ohm coils deliver a spectacular amount of vapor at around 30-35W and in temperature control mode the 0.2 Ohm coils also do their job without any flaw. The tank is made from solid stainless steel and Pyrex glass and it has a juicy flow control mechanism at the bottom as well as an airflow control ring.
In terms of performance the Artery Nugget does exactly what it's supposed to, however don't expect an impressive autonomy with the 49er tank on top of it. We managed to get little over two hours with that 0.5 Ohm coil but we did use it with the Nautilus X and got around 4-5h with the 1.8 Ohm coil, so there's massive difference. It's great to take with you when you need a stealthy vape and it delivers a very satisfying overall experience.
RELATED REVIEWS: