Aspire Puxos 100W kit review - great starter kit with the Cleito Pro tank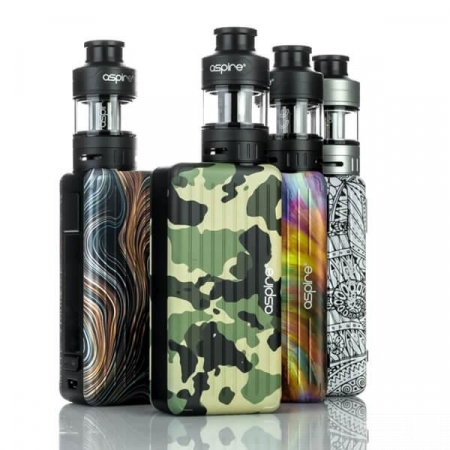 The Cleito has been one of our favorite sub-ohm tanks for years, and now it's back with a brand new device. The Aspire Puxos 100W kit is a compact and powerful vape, which comes with a Cleito Pro tank. This tank is compatible with older Cleito or Cleito EXO coils and offers amazing vapor and flavor right off the bat.
Aspire Puxos: General presentation
The Aspire Puxos 100W kit comes packed in a premium gift box. It comes with Puxos box mod, the Cleito Pro tank, a spare 0.5 Ohm coil, a bubble glass section, a bag of spare parts, a 21700 battery, the micro-USB cable and the manual.
There are 14 different finishes for the box mod, 7 of which having really cool designs and 7 being solid colors. The cool thing about this device is that these panels are held in place by magnets and you can swap them with different ones.
Puxos kit: design and features
The Aspire Puxos vape consists of a single battery box mod and a sub ohm tank. The mod measures 87 x 48 x 30mm and it's made from durable plastic. This makes it feel very lightweight and easy to carry around.
It has the buttons, display and port all on the same side, and to access the battery compartment you need to pull on one of the panels. With this kit you get a free 18650 battery sleeve, which you can use if you have these types of cells already lying around the house. The Puxos works with a 21700, 20700 or even an 18650 battery and this makes it extremely versatile. However we do recommend the included 21700 for best performance and battery life.
On top of the mod we can see the spring loaded 510 connector, which has been designed to accommodate atomizers up to 24mm in diameter.
The display is a 0.96-inch OLED which looks very crisp in all types of light. You can also easily adjust the brightness from the menu. We do recommend reading the user manual first, because the mod uses some pretty unique button combinations to go through all the settings.
The chipset is made by Aspire and it includes all the modern features you might need. It can go up to 100W with the 21700 cell and boasts variable wattage, temperature control and even power curves.
The Cleito Pro tank
Much like its predecessors, the Cleito Pro is a beast of a tank. It uses the same type of coils and delivers excellent vapor and flavor. These atomizers do not leak, however they do have a break-in period. The tank has a diameter of 24mm and can store up to 3ml of e-liquid. This capacity can be further increased with the bubble glass section to a total of 4.2ml.
Unfortunately the Cleito Pro comes with a proprietary Delrin drip tip as well as a new type of fill method. You need to pull the ring from under the drip tip to get access to the fill port and this is not always the easiest thing in the world.
The 0.5 Ohm coils give the best results between 60 – 80W and they have a very good lifespan.
Performance of the Aspire Puxos 100W
The Aspire Puxos 100W kit is ideal for mid range vapers who enjoy big clouds. The Cleito Pro tank is really good in terms of flavor and vapor and battery life is outstanding. This is an extremely versatile device that's affordable and easy to use.
There are some cons: like the fact that you need to select which type of battery you are using and the proprietary drip tip, but these are definitely not deal breakers.
RELATED REVIEWS: