Vaporesso Revenger 220W TC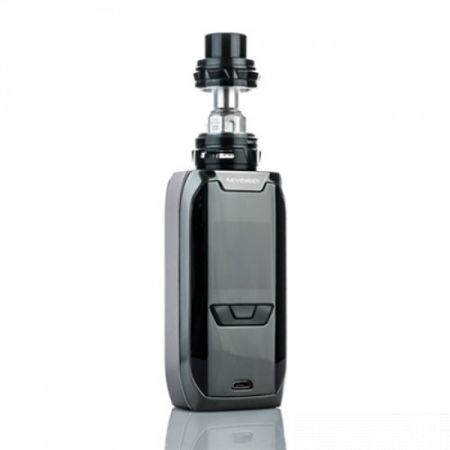 By far one of the most stylish mods we've tried, the Vaporesso Revenger 220W TC is also a pleasure to use. It features a revolutionary IML outer case that's very durable and resistant to scratches as well as a color matching NRG sub ohm tank. The elegant look is only matched by this device's performance and it's just built for big clouds.
What's in the box
The Vaporesso Revenger 220W TC is available in four different color schemes, including a beautiful Rainbow version. It comes packed in a gorgeous presentation box and inside you will find the mod, the tank, two coils, spare glass tube, charging cable, and the user manual. Powered by the OMNI Board 2.0 Chipset the mod is very responsive and packed with high end features. We love that the firmware is upgrade-able and the 2A fast charging is always a big pro.
Design and features
The device comes with a centered 510 connector on top that has a spring loaded pin. This helps fit atomizers up to 28mm in diameter and we didn't encounter any compatibility issues. The fire button is placed on the side, while the adjustment buttons, OLED display, and micro USB port on the face of the mod.
Each time you press the fire button on the Vaporesso Revenger 220W TC you will see an analog clock style screen saver and it's simply gorgeous. Of course, you can always edit the clock and timeout period and this is another pro in our books.
The menu system takes a bit of time to get used to but it's quite intuitive and rich in settings. Besides the three vaping styles – Normal, Hard, and Soft – you can also adjust the wattage from 5 – 220W. Temperature control works for Nickel, Titanium, Stainless Steels and two memory modes and there's also a Bypass mode. Minimum atomizer resistance is 0.05 Ohms, just like on more expensive high end mods.
The Vaporesso Revenger 220W TC is powered by two high drain 18650 batteries. The door is held in place by three strong magnets, however it does have a bit of rattle. Because the board has balanced charging and it can draw up to 2A of current you won't need an external charger.
The NRG tank you get with this kit is not only a thing of beauty but it also matches the power of the device quite wonderfully. There are two types of atomizers in the box – the GT4 and the GT8. While both are rated at 0.15 Ohms, the GT8 is a quad coil while the GT4 a dual coil. You can also get the GT2, GT6 and a ceramic version if you want to try them all out.
Performance
Vapor quantity and flavor are a dream and the mod is very responsive, intuitive and elegant. We recommend this kit to intermediate users and vape enthusiasts but it might also be a great tool for beginners as long as they also buy a pack of GT2 – 0.4 Ohm coils. These are great at 40-50W with cooler vapor and less e-liquid consumption.
Tip: The Vaporesso is listed on whichecigarette's Best Vape Mods page
RELATED REVIEWS: