VooPoo TOO 180W TC starter kit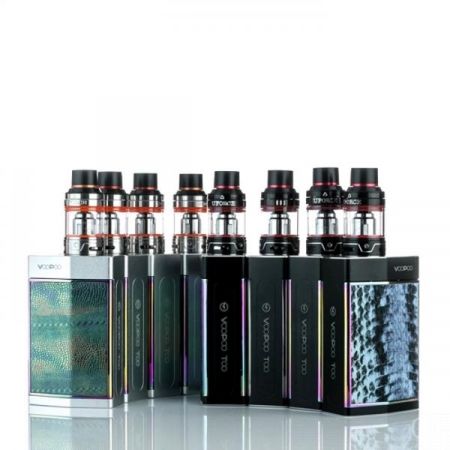 The VooPoo TOO 180W TC starter kit is where style meets performance. This state of the art box mod is paired with a very capable sub ohm tank for the most intense cloud chasing experience. It works with either one or two 18650 batteries and changes output power accordingly.
The Gene Chip – one of the best on the market
One of the key features of this mod is the US Gene Chipset, which is one of the most accurate and most reliable boards to date. It delivers stellar performance, flawless temperature control and response times of 0.01 seconds. It can go head to head with any of the industry leaders like DNA and Yihi.
What you get with the kit
The VooPoo TOO 180W TC starter kit comes packed in a cardboard gift box. Inside you will find the mod, a micro USB cable, a user manual as well as well as the UForce tank. The tank comes pre-fitted with a 0.4 Ohm coil, a spare coil, spare glass tube, as well as extra O-rings.
Main features
The mod measures 88 x 54 x 33mm and is made from Zinc and Aluminum alloy and weighs around 190 grams. The side panels also act as battery doors and not only they look beautiful, they are also a lot of fun to play with all day long. You can easily slide them half open and slide them closed again. The 510 connector is spring loaded and placed on top. You can use atomizers and tanks up to 28mm in diameter without overhang. Fire button, 0.91-inch display, adjustment buttons and micro-USB slot are placed on the main side of the mod.
VooPoo Too kits various colors
The great thing about the VooPoo TOO 180W TC starter kit is that it works with either one or two batteries inserted. With a single 18650 it can reach 80W and in dual battery mode it goes as high as 180W. Minimum resistance is 0.05 Ohms and maximum voltage is 8.5V.
Temperature control is supported for Nickel, Titanium, and Stainless Steel. There is also intuitive TCR adjustment and multiple safety features like short circuit, reverse polarity, over-current and low current protections. The Gene chip allows for fast 2A balanced charging.
The UForce Sub Ohm tank
Inside the VooPoo TOO 180W TC starter kit you get the lovely UForce Sub Ohm tank. This has a diameter of 24.6mm and a total capacity of 3.5ml. It's made from stainless steel and Pyrex glass and has a great slide to unlock top fill mechanism. The 0.4 Ohm coils are very good when it comes to flavor and clouds and they work perfectly between 40 – 60W. With the 14mm wide bore drip tip and full airflow adjustment you'll be able to enjoy a very authentic sub ohm experience.
Performance
Performance-wise the VooPoo TOO 180W TC starter kit is an excellent choice for intermediate and advanced vapers. At over little over $80 this is a best buy and one of our most recommended products. The chip is extremely efficient and reliable and the tank is just perfect for the 40-80W range. You can also use it with any RDA or RTA up to 28mm in diameter.
RELATED REVIEWS: