Aspire K4 Quick Start Kit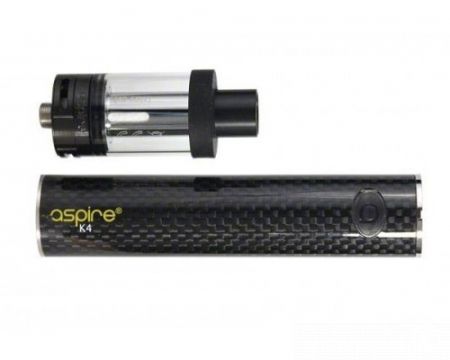 We still have some of Aspire's CF series' batteries lying around the office as well as one of their Premium kits that came with the Mini Nautilus and they are still working perfectly to this day. These eGo style devices were just perfect for beginners looking for a high quality device and the Chinese company decided to re-animate the line of products with some brand new starter kits.
Today we are going to take a closer look at the Aspire K4 Quick Start Kit, a carbon fiber styled ego device that's compatible with the popular Cleito coils and it's great for beginner's who want to get into sub ohming. Just like the Cleito tank this also comes in a very thin and elongated transparent plastic box and inside you'll find the battery, the tank fitted with a 0.27 Ohm coil (kind of a weird rating but it's probably for a good reason), a spare coil, a micro-USB cable, a vape band and a user's manual.
The device is made from high quality materials and the carbon fiber finish feels very good in the hand. It's a perfectly balanced battery and it measures 22mm in diameter with a total height of 85mm. It has a standard 510 connector on the top with four carved air slots, a single button on the middle and a micro-USB charging port on the base. The button is lit by a blue LED light that also acts as a battery charge indicator.
The Cleito tank that comes inside the kit measures 22mm in diameter with a total height of nearly 60mm and it comes with a nice Derin drip tip to help dissipate the heat. It's made from stainless steel and Pyrex glass and it has a total capacity of 3.5ml of e-juice. The tank comes in black if you choose the black kit version and in stainless if you go for the pink version of the kit (which has been obviously designed for the ladies).
The battery included in the Aspire K4 is rated at 2000mAh and it's a perfect match for the power craving Cleito tank. The included 0.27 Ohm coils can be used between 40-55W and they have Clapton style wire inside for improved flavor. You won't be able to adjust your wattage or voltage with this kit but it automatically fires at a very precise value. If you want to try different Cleito coils or even a different tank on top of the battery it will automatically deliver its power in direct link with the resistance it reads.
To turn the device on or off you simply need to press five consecutive times on the firing button and to refill the tank with e-juice you need to remove the top cap. The autonomy is great and you can get around 5-6h of great vaping each time you fully charge the battery (takes around 4h to reach 100%).
Our experience with the Aspire K4 has been more than pleasant, the device delivering massive clouds, awesome flavor and a great throat hit. These Clapton coils are really good and the 3.5ml capacity is decent. As a small side note you'll need to take a bottle of e-juice with you if you take it to work, because the coils go through juice like a hot knife through butter but besides this there is no leaking, no burnt taste and no problems with the battery.
RELATED REVIEWS: