VaporFi Rocket 3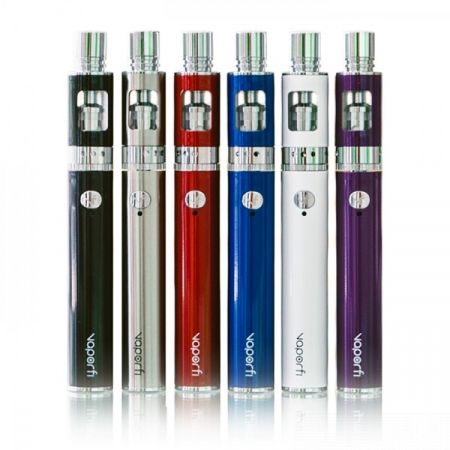 When it comes to devices that are powerful and at the same time easy to use, the VaporFi Rocket 3 is hard to beat. This chic vape pen kit is ideal for beginners and intermediate vapers and it's built for sub ohming. There are plenty of colors to choose from and you can even get the tank in different color from the battery as extra customization.
The kit comes packet in a white and green cardboard box and inside you will find the battery, the tank with a 0.5 Ohm coil already installed, a spare 0.1 Ohm Nickel TC coil, a charging cable, spare O-rings and the quick start guide. It looks very sleek and it's pretty intuitive as it only has one button.
The cool thing about the VaporFi Rocket 3 is that it has variable wattage as well as variable temperature control. When using the 0.5 Ohm coil the device automatically sets itself in power mode. Here, if you press the button three times it will cycle through the three predefined settings. The red light will indicate the pen fires at 30W, white is 40W and green is 50W. The higher the output power the faster the battery will drain, so keep that in mind.
When using the 0.1 Ohm Nickel coil, the device will automatically go into temperature control mode. By pressing the same button three times you can switch between preset values. Red is 400F, white is 500F and finally green is 600F. This particular coil will give a lot more vapor than the 0.5 Ohm version, but it will also drain the battery a lot faster.
Speaking about the battery, the VaporFi Rocket 3 is powered by a 2500mAh internal cell. This takes around 3h to fully charge and will give you about a full day of vaping with the 0.5 Ohm coil at 30W. When using other modes battery life is usually anywhere between 3h – 6h, depending mostly on your style of vaping. The micro-USB slot is conveniently placed on the side and this makes recharging super easy.
The sub ohm tank that comes with the VaporFi Rocket 3 is built from stainless steel and thermo resistant glass. It features top fill and has adjustable airflow at the base. Total tank capacity is 3.5ml and this is more than enough for such a small device. You will need to take a bottle of e-liquid with you at the office but we all have at least one lying on the desk anyway.
Performance wise the VaporFi Rocket 3 delivers a spectacular amount of vapor for such a tiny thing. It's built for sub ohming and both coils give very good flavor. As long as you're not using juices about 70% VG you don't have to worry about dry hits and the overall experience is more than enjoyable. It's a cool device for beginners looking to sub ohm and the battery is generous enough to keep you puffing for hours. All in all a great product from Vaporfi!
Tip: For more recent Pen vaporizers make sure to see the best vaping pens list
RELATED REVIEWS: