VaporFi Pro 3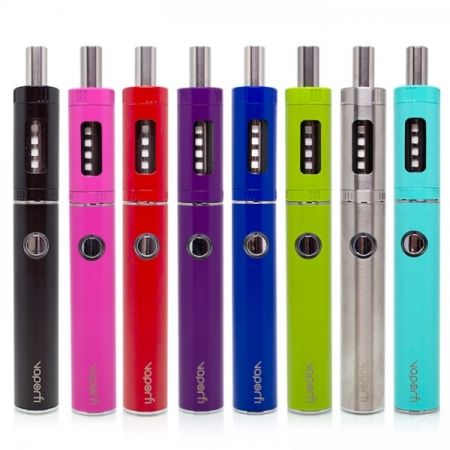 If you're looking to try vaping, don't go with the cheap disposables you find in convenience stores. A product like the VaporFi Pro 3 is something we recommend and it's the ideal kit for any beginner. Unlike two piece cig-a-likes or disposables this does work with e-liquid so you will need to refill from time to time, but the overall experience is totally worth it.
The kit is also available in so many different colors and this makes it perfect for both men and women. You can also get the tank in a different color than that of the battery and add your signature touch to this lovely device. It comes packed in a cardboard gift box and inside you will find the battery, the tank already fitted with a 2.0 Ohm coil, a spare 2.0 Ohm coil, spare O-rings, a charging cable and the user manual.
As it's a one-button-operation type of vaporizer it's very easy to use and quite intuitive. You don't have to worry about adjusting voltage or go through complicated menus. You just fill with e-liquid, press and vape. The mouth to lung style of inhaling mimics puffing from an actual cigarette and this ultimately helps with the transition from smoking to vaping.
The VaporFi Pro 3 is powered by 1000mAh battery and considering the coils are rated at 2.0 Ohms, this ensures a full day of vaping on a single charge. To recharge it simply plug in the micro-USB cable in the slot at the base and wait around 2h until the battery is full. Also there is a LED indicator light around the fire button which shows when it's time to plug it in.
The tank is made from stainless steel and glass and has a total capacity of 2.5ml of e-liquid. First time you use it it's important to prime the coil with 5 drops of ejuice. After that just take off the top cap, fill the container, wait 5-10 minutes and start puffing. You don't have to repeat this process with each refill, only when you swap and old coil for a new one.
To power on the battery simply press five quick consecutive times on the fire button. The LED indicator light will flash and this means you're ready to vape. We recommend e-liquids with concentrations between 12 – 18mg of nicotine to start off, and then gradually decrease to 6mg in a few months' time.
The VaporFi Pro 3 delivers a smooth, warm vape with intense flavor and good vapor production. It's very similar to what a tobacco cigarette would give and it hits the spot perfectly. The vape device is so easy to use and once you read the manual refilling with ejuice and swapping coils becomes child's play. This is one of the best vape pen kits on the market to start vaping and it's certainly something we recommend. You can go with a tobacco flavored e-liquid from Vaporfi for starters and then transition to fruits or menthols, depending on your personal preference. There are dozens of flavors to choose from and this tiny device is perfect to help you sample some of them.
RELATED REVIEWS: