VaporFi VAIO GO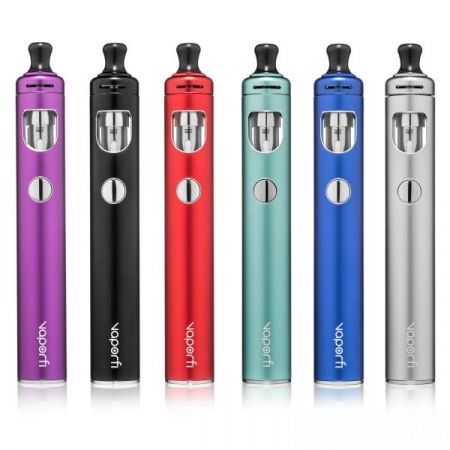 If you liked the design of the Nautilus 2 tank, then the brand new VaporFi VAIO GO is something worth checking out. This lovely all-in-one vape pen is not only well built but it's also extremely versatile. It's built to work with mouth to lung as well as direct lung coils and vapor production and flavor are amazing.
Packaging
The VaporFi VAIO GO is available in six beautiful colors. It comes packed in a white and green presentation box. The item is fully visible through the transparent plastic film on the top. Inside you'll find the vape pen, an extra mouthpiece, two coils, spare O-rings, a charging cable and the user manual.
General features
With a diameter of just 22mm this vape pen is sleek and portable. It's powered by a generous 2000mAh battery, which is operated via a single button. The finish looks and feels nice and durable and the overall design deserves a big thumbs up. Three clicks to turn it on or off and has an LED notification light to show remaining charge. The light glows green whenever the battery is between 100 – 50%, yellow between 50 – 25% and red when it's time to plug it in. It usually takes around 2h 30min to get the battery fully charged.
This this is an AIO vaporizer, the tank is built into the battery. It has a total capacity of 3.0ml and the glass is non replaceable. The airflow is fully adjustable and to refill or replace coils you need to unscrew the top cap. It has a childproof mechanism so you need to press while turning it counter-clockwise.
The coils
With the VaporFi VAIO GO you get two types of coils. The 1.5 Ohm version is intended for mouth to lung and should be used together with the black mouthpiece. The 0.5 Ohm version is intended for direct lung use and should be used with the silver mouthpiece. The main difference between these two drip tips is the inner diameter.
Like on all cup-style tanks there's a max fill line which you shouldn't exceed when filling with e-liquid. And also like on all these AIO systems you're bound to have some flooding and spit-back from time to time. Vaporfi addresses the issue and presents some effective workarounds in the user manual. We recommend using e-liquids with a max VG concentration between 60 – 70% for best results.
Performance
The VaporFi VAIO GO is a really great product and one of the best vape pens we tried in 2017. Build quality is good, battery life is amazing and flavor is super intense with the 0.5 Ohm coil. Except for recurring spit-back we didn't encounter any other issues with this kit. Airflow adjustment works perfectly and the top fill system is so convenient. Great for beginners and intermediate vapers.
RELATED REVIEWS: