VaporFi Rebel 3 Kit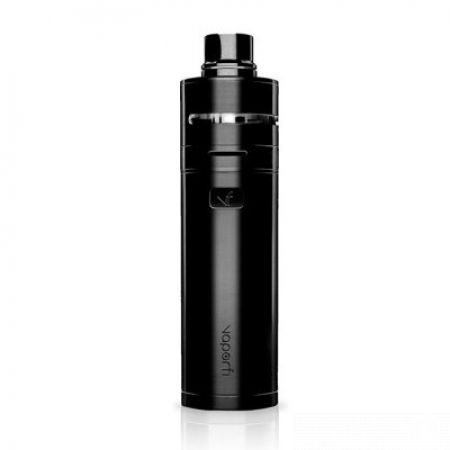 We love vape pens and we have dozens of them lying around the office, however this is the first one that comes with what we call serious battery life. Powered by a 3000mAh internal cell the VaporFi Rebel 3 Kit is built for performance and it's going to last you at last two full days between charges. It's a bit on the bulky side but easy to hold nevertheless and both flavor and vapor production are top notch.
The VaporFi Rebel 3 Kit comes packed in the usual white and green cardboard gift box and inside you will find the battery, the tank, a spare 0.5 Ohm coil, a micro-USB charging cable, a wall adapter and the user manual. It's one of those plug and play type of kits where you only need a bottle of e-liquid and you're ready to vape.
Given the 30mm diameter, it has a very robust look and a reasonable amount of weight to it. However, this accounts for one of the most generous tanks we've tested so far, and the bad boy is rated for 5.8ml of e-liquid. That's enough to last you a full day at the office without requiring any refills and this is always a big pro in our books.
In terms of design, it's a simple one-button-operation type of vape pen that features a micro-USB slot on the side, a notification light and a spring loaded 510 connector. You won't be able to use the battery with most tanks on the market due to the sheer size of the thing, but if you don't mind the weird look you should know it can fire down to 0.25 Ohms.
If have to press the fire button five times to turn on the VaporFi Rebel 3 Kit and the white LED notification light will let you know everything is OK. You can't really adjust the wattage or voltage as it does this automatically based on the resistance of your coil. However, we found the 0.5 Ohm atomizer heads that come with the device to be well balanced and just perfect for beginners and intermediates alike.
Usually big mods account for massive clouds, but with this kit that's clearly not the case. It's more built to offer a great vaping experience and an impressive battery life. Flavor is really good and it does deliver a generous amount of vapor but don't expect to be chasing clouds.
The VaporFi Rebel 3 Kit really stands out when it comes to its sub ohm tank. The 5.8ml stainless steel and Pyrex glass bad boy comes with airflow adjustment and it's the type of atty you forget you need to refill. The only downside for us was that it doesn't feature top fill, as most modern day tanks do.
All in all, the VaporFi Rebel 3 Kit is a great vape pen starter kit for all those looking to enjoy a lovely vaping experience and tremendous battery life. As we mentioned before flavor is crisp and complex, while the clouds are more than satisfying for a regular day to day vaper. It takes around 4h to charge with the provided wall adapter and this is enough to last at least two whole days of moderate puffing. We would suggest buying an extra 5-pack of coils with your order as these don't last for more than two weeks. However, we wouldn't recommend using the same coil for longer than that as it gets clogged up with e-liquid residue.
RELATED REVIEWS: