Aspire X30 Rover Starter Kit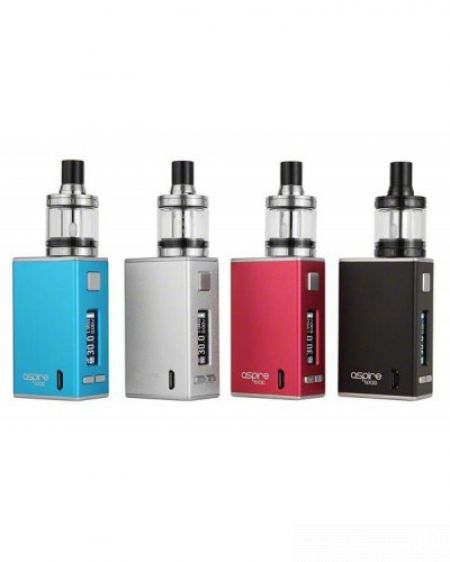 If you enjoy the mouth to lung style of vaping we have a surprise for you. Aspire just released a brand new starter kit and not only does it look nice but it also performs top notch. It features the lovely Nautilus X tank we've talked about in a separate review and small and stealthy box mod. The Aspire X30 Rover starter kit is ideal for beginners as well as intermediate vapers looking for a MTL back-up kit. It's the type of small vape mod you can take out without drawing too much attention and enjoys a smooth and delicious vape.
What you get in the box
The Aspire X30 Rover starter kit comes packed in a black cardboard gift box and inside you get the NX30 small form factor mod, the Nautilus X tank, a replacement glass tube for the tank, a user manual, a micro-USB cable and a lanyard strap. The Nautilus X tank comes with the 1.8 Ohm coils inside and this is rated for 12-16W and built for flavor. Thanks to the patented U-Tech Airflow technology it's able to deliver flavor and generous vapor for weeks before needing to be replaced.
The Aspire NX30 mod is available in four different colors – black, silver, blue, and red – and it's a small and stealthy device built specifically for the mouth to lung experience. It measures only 60 x 36 x 22.5 mm and the Nautilus X tank sits flush on top of it. On the top there's a spring loaded 510 connector as well as the lanyard holes and on the main side we have the fire button, 0.86″ OLED display, and the two adjustment buttons. The micro-USB charging slot is located on the back of the mod and on the base there are a couple of venting holes.
Power of the X30 Rover
The Aspire X30 Rover is powered by an internal 2000mAh battery and this is enough to last you more than a full day of vaping at 13W. It takes around 3h to get it fully charged and the battery will start flashing on the screen when it's time to plug the cable. The mod can be used in variable wattage mode, variable voltage mode and Bypass mode where it acts exactly like an unregulated device.aspire rover starter kit
The buttons are snappy, the build quality is pretty good and the mod itself feel light yet well built. The lanyard strap is a pretty nice touch and it will help you carry around the kit wherever you go. However, the star of the show is the Nautilus X tank, a great mouth to lung atomizer that delivers flavor for weeks. It has a 2ml capacity, top fill and a Delrin drip tip. The coils do require a break-in period of 1-2 refills but after that prepare to enjoy smooth and delicious flavor. They are pretty similar to the Cleito coils in terms of design and they last for a very long time before giving just a slight burnt taste.
Conclusion
All in all, the Aspire X30 Rover is one of the best kits out there for beginners, featuring a great tank and enough battery to get you through a full day of regular usage. Flavor is great for mouth to lung, but since it's only a 2.0ml tank you're going to need to refill it at least two times per day.
RELATED REVIEWS: