Blu ecigs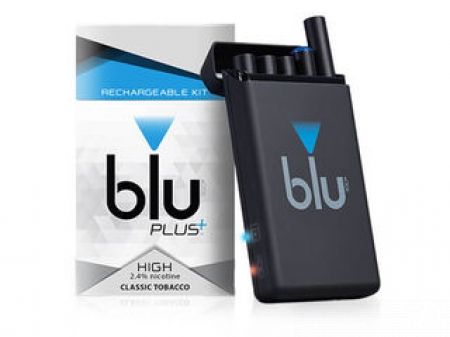 UPDATE: BLU have launched the new BLU+
VMR Products, a global leader in the e-cigarettes industry and the makers of V2, one of the top brands of vaping products in the United States, announced a few weeks ago that, for the first time in history, open system vaporizers have exceeded two-piece cig-a-like sales by almost $500 million. They have also surpassed $1 billion in annual sales across both traditional and online retail channels.
According to Cynthia Cabrera, Executive Director of the Smoke-Free Alternatives Trade Association users like the tank systems more because they offer more customization and a lot of features giving them complete control over the entire vaping experience. Electronic cigarette companies are taking notice and many are rolling out their own vaporizer systems while the market is still hot and booming.
Such businesses strive to be the best e-cig brand will always try to stay relevant on the market. Thats why BLU set to release the Blu Plus, their answer to competing brands that use tank systems. The new product line is not exactly traditional or conservative when compared to other e cig tanks, but obviously Blu hopes that 'Plus+' be will considered a powerful player on this constantly increasing market. Blu released this product at NACS Trade Show back in October, in Las Vegas at the Convention Center.
In only a few days after making it available online, and the company quickly witnessed a sellout of the product – an amazing response that only confirms the features in the new blu PLUS+ Kit addresses adult smokers' demand for a more fulfilling product. As a reaction to the sellout, the company is now getting ready for a national launch in retail stores later this autumn.
Constant advances in science have delivered a new tank system to the company's line of products, which brings a superior vapor production and increased durability to the already popular blu ecigs. The new tanks provide a solid vapor production paired with an improved draw and flavor, giving off the same quality from start to finish. As opposed to the original cartridges, these tanks come prefilled with even more e-liquid, which also takes care of any complex refilling procedure while at the same time reducing the risk of spills.
Despite the fact that the battery used in this tank system is bigger, the product itself keeps a very slick shape, with matte-black finish and an improved LED tip. The powerful battery has almost double the lifespan of previous models, and features rapid charging so vapers are never left without their e-smoke for more than 30 minutes. There are no dials to twist,buttons to push, or any other complex steps to take in order to activate the system.
We are looking forward to test this brand new product, but we have to say we are a bit disappointed about the fact that even though a tank system, you can't refill it with your favorite e-liquid. Blu is set on offering the power and vapor of modern tanks but not their customizability, which we believe made these products so popular.
The old Blu ecigs kit
If you are looking for a true American electronic cigarette, then Blu Cigs is exactly what you need. This premium e-cigarettes brand takes pride in offering only American made flavors that come in fantastic variety. Made only with natural ingredients, these are superior flavors that will please even the pickiest smokers. Their selection includes Cherry Crush, Classic Tobacco, Java Jolt, Magnificent Menthol, Peach Schnapps, Piña Colada, and Vivid Vanilla, my personal favorite, each of them delivering rich and powerful sensations. In terms of design, Blu Cigs chose a simple, yet very sophisticated look, making their product available in black or white. As a common feature, they share a gold band, which makes them even more classy looking. In addition to this, their innovative two-piece design no longer requires buying separate atomizers, as they are now part of the flavor cartridge, therefore saving you significant amounts of money.
As an extra advantage, the new cartridges are compatible with most of Blu Cigs accessories, chargers and batteries, this being in favor of every smoker, including the ones that, just like me, bought the kit before this design change. Being interested in providing an authentic smoking experience, Blu Cigs took the decision of using automatic batteries. The battery is now lighter and has a longer life span than the previous versions. Also, the fact that Blu Cigs products kept the same length as analog cigarettes, makes the transition easier and more natural. The one disadvantage that I found is that a charge will only allow you to enjoy a number of approximately 100 puffs, which is less than other e-cigarettes brands offer. Nevertheless, the design, flavors, and experience are top notch.
Blu Cigs offers three types of starter kits: Original, Premium, and Premium100, all of them coming in a cigarette looking package that can be used as an e-cigs carrying case and a mobile charger at the same time. Blu electronic cigarettes and accessories can be found in stores all over the country, but they can also be bought online. Besides all this, you receive a one year warranty, free shipping for every single one of the products, as well as access to 24 hour customer service that works perfectly. Better yet, the Smart Pack Technology that Blu Cigs uses will warn you when other Blu smokers or retailers are near. With these electronic cigarettes you get 100% American flavors, amazing vapor volume, an authentic smoking experience as well as the opportunity to smoke anywhere at any time, making your vice more socially acceptable.
RELATED REVIEWS: