Vapor4Life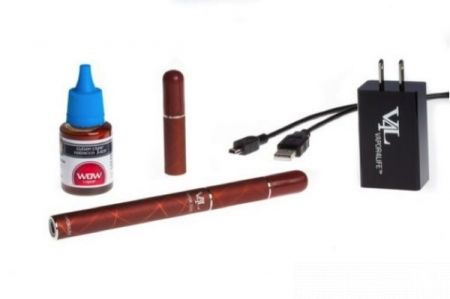 Vapor4Life established their name with the Original and Classic Vapor Kings a few years ago, and now they are one of the leading brand names when it comes to electronic cigarettes. The company is located in Northbrook, IL and was started in 2009 by a man named Steve 'Smilin' Milin. One of their latest products is the 'Vapor Zeus' or the 'god of ecigarettes' as it is often described and this is what we are going to review today.
Variety
Vapor4Life likes diversity and therefore it sells a wide range of products from the basic e-cigarette disposable to the most impressive of mods. There are plenty of starter kits available to suit every taste and especially every pocket. They even sell variable voltage starter kits and the most impressive collection of e-liquids we've seen so far. Even if you are a beginner or you have years of vaping experience you won't go wrong with what Vapor4Life has to offer.
Design and Packaging
The Zeus's packaging is not made to sweep you off your feet, the battery and cartomizers coming in small individual boxes but with not much attention to details or first impressions. But when you put it all together, that's when you'll start feeling impressed. The Zeus is designed in the shape of a cigar and is considerably longer and thicker than analog-like ecigs or even the eGo but sets itself apart by having an automatic switch. Unlike the other automatic electronic cigarettes, the Zeus doesn't have an LED tip that lights up when you take a puff. Instead it has a mini USB port that can be used for charging or transforming the unit into a pass-through, so you don't need to worry about battery life when you are near a computer or laptop.
Even though at first look this might seem like a really big cigar, it is nicely balanced that it feels very comfortable in your hand. It even sports a soft rubberized paint job in a natural cigar pattern.
Starter Kit contents, prices and warranty
The Vapor Zeus Dual Mode Starter Kit contains: battery; wall adapter and USB cable; Smileomizer; free 30ml bottle of e-juice;
The Vapor Zeus Dual Mode Starter Kit is available for $94.95 and it comes with a 30 day money back guarantee and a 1 year day full commercial warranty. You can read about terms and conditions on their website.
Battery Life
When it comes to batteries, here's where The Zeus it's set to impress. You have three options to choose from when you buy your kit: The standard 650mAh provides 4-8 hours of use and takes 2-6 hours to charge, the 900mAh provides 6-12 hours of use and takes 4-9 hours to charge and the XL 1300 mAh provides 15-20 hours of use and takes 5-12 hours to charge. The batteries are regulated to 5V when using single coil cartomizers with the resistance of 2.0ohms and above; and 4.4V using dual coil cartomizers. The Vapor Zeus can work as a pass-through when you have the USB cable plugged into the computer port or the wall adapter. It is also the single kit on the market that allows the option to switch between the battery's manual mode and automatic mode with a press of a button.
Vapor production was equally impressive in both automatic and manual modes and with very consistent throat hit.
Flavors
Vapor4Life has one of the most impressive collections of flavors on the market. Besides the usual tobacco and menthol flavors there are a lot of other cocktails that are going to play with your taste buds like: OJ, Caramel Apple, Irish Creme, Apple CinnaCran, Red Energy, Wintergreen, Smilin Special, Espresso, Congress, Chillax, Traditional Menthol, Peach Cobbler, Menthol, Strawberry, Blueberry Cobbler, Cherry, New Menthol, Blueberry, Peach, Menthol, Menthol, Choco Banana, Chocolate, and Cherry Cordial.
All of them come in 7 different nicotine levels (0.0%, 0.4%, 0.8%, 1.1%, 1.8%, 2.4% and 3.6%).
Conclusion
$95 may seem a lot to pay for some people for a starter kit, but in our opinion it is worth every penny. Clearly a device intended mostly for the heavy smokers, it comes packed with everything to enjoy your vaping anytime. The USB pass-through is an excellent idea while the impressive batteries do their job without flaw. The Zeus produces huge amounts of vapor and has that powerful throat hit similar to analog cigarettes. It's a great looking device and that's not going to disappoint.
RELATED REVIEWS: