Victory Ecigs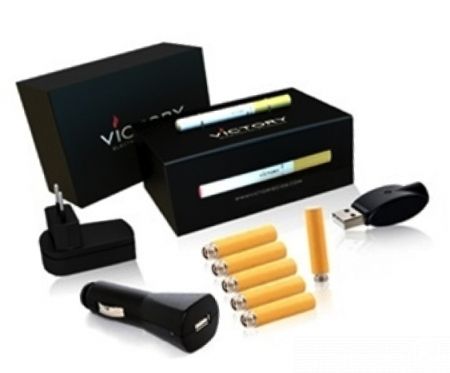 Victory electronic cigarettes built one of the leading presences in the ecig business on the Internet after starting in 2010 as an online company. There, the Company has built its database of subscribers to over 100,000 consumers, and at retail, Victory now ranks as one of the top two brands in every outlet where it is distributed outselling many other competitive companies. Although retail distribution has just started in 2013, Victory is already sold in thousands of independent retailers and some of the top regional grocery and convenience store operators in the United States.
Variety
Victory electronic cigarettes likes to keep things simple and it only specializes in cig-a-like devices. It has over six starter kits available and a lot of promotions. You don't have the option of buying eliquid and the cartridges come in eight appetizing flavors. There are three nicotine levels to choose from and you can save a lot of money on their bulk deals on cartridges. You can also buy disposable ecigarettes that come in two flavors: tobacco and menthol.
Design and Packaging
Instead of going for the usual flip top cardboard boxes that the other brands use for their starter kits, Victory decided to go for an almost paper thin box with another plastic container inside, sealing the components. We like the idea of seeing something different but at the same time, it might play a bit with your patience if you plan of using the original box a lot. The design of the electronic cigarettes is fairly simple and it resembles an analog cigarette. The brand has a signature red colored LED tip that lights up each time you take a puff and it also serves as a notification light in case the battery runs out. The build quality is above average and the device feels very good in the hand.
Starter Kit contents, prices and warranty
The Full Electronic Cigarette Starter Kit contains: one battery; one wall charger and USB adapter; one car charger; 5 flavor cartridges;
The Full Electronic Cigarette Starter Kit is available for $59.99 and it comes with a 30 day warranty. You can read about terms and conditions on their website.
Battery Life
Victory uses a different kind of battery from the ones their competition puts in their starter kits, which has a 510 thread, like the kind used in eGo e cigs. The difference from the usual KR-808D battery feels from the first draw and you'll end up very impressed by the amount of vapor this little gizmo can produce. The Victory rechargeable battery is 78mm-long, just like the standard KR808D, and can store around the same amount of energy. It is automatic and very responsive while having the signature red colored LED tip for the most authentic vaping experience.
The battery lasts for almost four hours of moderate vaping and fully recharging it takes about two hours. It's a real pity that Victory decided to go for only one battery inside the kit, but you can always buy an extra one from their accessories page.
Vaper volume is very consistent and the throat hit is good. It's one of the best performing cig-a-likes and it really comes to tell of the difference between the standard KR-808D and the 510 battery. The vapor quantity decreases noticeably as the battery runs out of power, but that's a common situation of all the e-cigs available on the market today.
Flavors
In terms of flavors, Victory has eight available aromas to spoil any vaper's taste buds and even though they are made in China, they don't leave that chemical aftertaste in your mouth like other brands.
While not the most diverse layout of flavors, they are good enough to keep you from going back to your smoking habits. Tobacco, Chocolate, Vanilla, Coffee,Strawberry, Blueberry, Cherry, and Menthol are the brand's signature tastes.
The cartridges come in 3 levels of nicotine strengths (0%, 0.8%, and 1.6%).
Conclusion
Victory electronic cigarettes are quickly becoming a very renowned brand on the market, mostly due to its high quality devices that deliver very decent vapor production along with some pretty enjoyable flavors. The only downside however is the fact that they only included a single battery with their standard kit but you can buy it separately.
RELATED REVIEWS: