7's E-Cig Starterkit review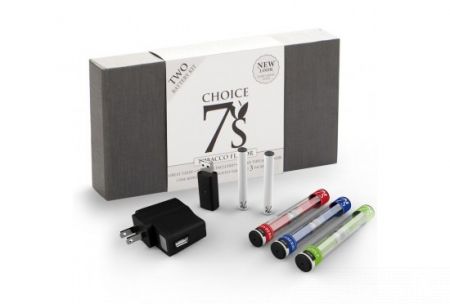 Choice 7s electronic cigarettes present their product as "The Smoker's Smart Choice" and they make them available for any budgets and desires, from low-price to high-price and everything in between. Their electronic cigarettes will make a nice impression on you right from the start as they come in a very elegant packaging. They have a varied offer of starter kits, the cheapest one being only $29.99 and the most expensive one being $99.95. However, most users prefer the Two Kit, which sells for $59.95. The Two Kit consists of six cartridge refills, not five like most brands offer, two batteries, one USB charger, and one wall charger. It also comes with 90-day warranty for defective parts, worldwide shipping and another 30-day money back guarantee, if the product is not what you were hoping for. A very interesting and helpful opportunity with the electronic cigarettes kits are the storage cases. These items are very innovative as they allow you to recharge the unit and at the same time protect your e-cig.
In terms of taste, the Choice 7s electronic cigarette is significantly better than other brands; the cig gives excellent throat hit and the flavors are rich and crisp. They have a very nice assortment of rich flavors that I believe will suit any smoker. Apple, Blueberry, Grape, Mocha, Vanilla, Peach, Menthol, Tobacco, Strawberry, Coffee, and Cherry are the flavors included in Choice 7's exquisite selection. Using their electronic cigarette is very simple and easy, as it doesn't make any annoying noises and drawing on it requires no effort. Also, the vapor volume produced by the device is outstanding, much better than any other brands on the market. When it comes to the battery you will notice that the style they chose is "Micro", a small piece with an orange LED that keeps on lighting whenever you puff on the e-cig.
All in all, their product is balanced, easy to handle and use, and very convenient. Choice 7's offers different levels of nicotine in their cigs from none to high; however, these options are not available with every flavor so you should check this out before placing an order. Although their product is very effective, responsive and enjoyable, this e-cigarette brand doesn't offer free shipping, the 30-day money back guarantee is at the company's discretion, and the manufacturer warranty is limited to 90 days only. All in all, the savings this e-cig will bring are significantly high, as it is the satisfaction that vaping on such an elegant device will produce.
RELATED REVIEWS: