Ozone Smoke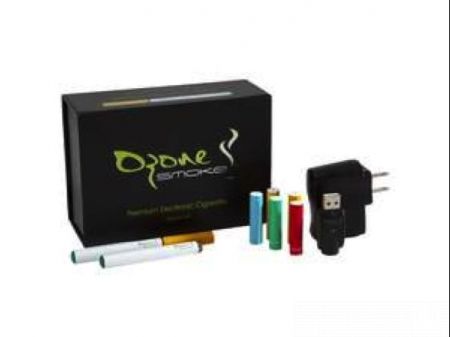 With so many competing ecigarette manufacturers, you have to consider all of the options in order to find a truly great product. Ozone Smoke claim to be one of the leaders in revolutionizing the electronic cigarette market, using innovative technology to duplicate the feel, taste and experience of smoking a traditional cigarette. While not being the most well known ecigarette brand, they are surely making their presence felt on the vaping scene. The company was founded in 2010 and since then they have focused on offering great products at affordable prices.
Variety
Ozone Smoke is specialized in mimicking the analog smoking experience so its products are only cig-a-like devices that look remarkably similar to real cigarettes. They have four different starter kits, fitted for every budget and 10 amazing flavors to choose from. Their O3 cartomizers come in four different nicotine levels and they last for as long as 400puffs each. You don't have the option of buying their e-liquid separately and they don't sell any disposables. They only have automatic batteries and there is no option of choosing their color or size.
Design and Packaging
The Premium Starter Kit has a classy design, with silver and emerald lettering over a sleek black background. Ozone Smoke uses quality magnetic-top cardboard boxes that are sturdy enough to keep your ecigs safe. The interior is padded with spots for both of the batteries, cartridges and chargers. The kit includes everything you need to enjoy a good vaping experience but lacks some accessories that would certainly improve comfort like a portable charging case or car charger.
The ecigarettes are the standard pen-size, with a green LED tip that lights up each time you take a drag and they have a two-piece construction (battery and cartomizer).
The quality of the devices is pretty impressive and you won't be disappointed by the responsiveness or the looks of these ecigs.
Starter Kit contents, prices and warranty
The Premium Starter Kit contains: two batteries (regular and short); 6 flavor cartomizers; wall adapter and USB charger; instructions manual;
The Premium Starter Kit can be purchased for $69.95 and comes with a one year warranty. Also if you are not completely satisfied with your purchase the company has a 30 day money back guarantee. You can read about terms and conditions on their website.
Battery Life
When it comes to battery life, even though it does not impress, it is more than adequate for the majority of users. The claim of 400puff that is found in their manual can only apply in ideal conditions but you clearly get about 1.5-2hours of constant vaping from the small battery and about 2.5hour from the regular one.
Ozone smoke batteries are only automatic and you don't get to choose their color but they are very good when it comes to responsiveness and they don't get activated by strong winds or loud noises.
They are regulated at 3.7Volts and they have a green LED that lights up and fades as you inhale from your ecigarette. Overall they offer a decent performance but clearly are not as good as other brands on the market.
Flavors
When it comes to flavors, Ozone Smoke has 10 great aromas that are going to make you a big fan of this brand. You can choose from Coffee, Menthol, Vanilla, Tobacco, Green Apple, Blueberry, Cherry, Energy, Peach, and Strawberry. Their cartomizers come in 5 packs and you have the option of saving money when buying them in bulk.
All their flavors come in 4 levels of nicotine strengths (0%, 0.6%, 1.1%, and 1.6%).
Vapor production is decent but does not impress while the throat hit is good only for the full flavor cartridges which we recommend.
They don't sell their eJuices separately.
Conclusion
Ozone smoke is an average ecigarette with some nice flavors and a really responsive battery but with it does not impress when it comes to vapor production or throat hit. It's clearly a very good choice for beginners and casual vapers and once you get used to it you'll probably end up being a very satisfied customer. Even though the price is not exactly cheap, you get a 30 day money back guarantee, so you're covered if you're not impressed with the product at all.
RELATED REVIEWS: