Eversmoke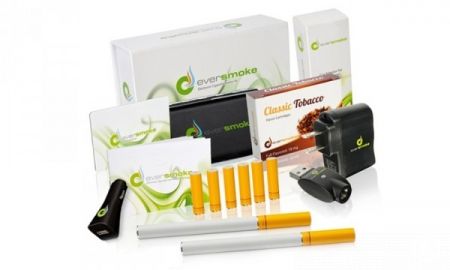 The market for electronic cigarettes has developed a lot over the past few years, allowing more and more brands to establish. Even so, the most advanced e-cigs available on the market are by far the ones from EverSmoke, as they offer long lasting batteries and fantastic cartridges. They provide superior products at very reasonable prices, with starter kits starting at $49.99.
With EverSmoke electronic cigarettes, you will get the newest technology and a very fashionable design. Their products are built on the two piece technology, having the atomizer built in the cartridge, offering the opportunity to receive a new one with every change in cartridge that you make. In terms of presentation, the Ever Smoke packages are simple in design but there is still something interesting and enticing about them that makes you want to see what's inside.
The information on the box is limited but, inside it you will find the two lithium-polymer batteries, a charger, instructions, and member's card. The technology behind the battery makes it last up to three days before you need to charge it, allowing you to enjoy more of the smoking experience. In addition, it will take no more than an hour to recharge the batteries and you can do that anywhere, as the charger is USB compatible.
As an exclusive feature for e-cigarettes, Ever Smoke products have a silicon tip enclosed in the mouthpiece that is meant to prevent leakage, and offers an authentic cigarette sensation. Also, with every puff you take, an orange LED lights up, and lets you know when you need to recharge your e-cig. Even more amazing is the fact that every buyer can choose a customized battery color and function, making the smoking experience more personal. The cartridges for Ever Smoke e-cigarettes are built with their own exclusive technology, called VaporMax®, which ensures maximum vapor with every puff you take.
Ever Smoke offers a selection of ten flavors, out of which three different types of tobacco blends: Classic Tobacco, Royal Tobacco, and Golden Tobacco. The other Eversmoke flavors available are Peppermint Party, Coffee Creation, Peach Passion, Cool Menthol, Piña Colada, Cherry Crush, and Very Vanilla. If you don't know which one to choose, Eversmoke makes your decision easier and offers a Flavor Sampler that includes six tasty flavors for you to try.
Unfortunately, their products can only be bought online but, their customer service is impeccable as well as it is the delivery process. These electronic cigarettes are definitely the way to go if you want a premium product, with great performance and authenticity.
RELATED REVIEWS: