Premium Vapes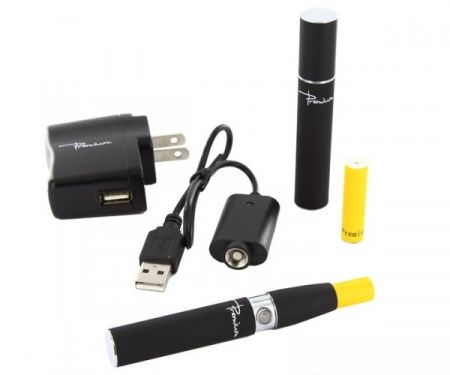 Premium Vapes is one of the most popular e-cigarette brands, and that because they don't do business only on the Internet. They promote their products in shops and they also take social media very serious, creating a really powerful brand. What you must know is that the fact that they pay a lot of attention on advertising doesn't mean they forget to improve the product, because their cigs are some of the best you can buy.
If you're a new buyer, they offer 8 different starter kits that will help you understand how this device works and gives you everything you need for enjoying this experience. For the money you pay you'll get a charger, their long lasting battery, some cartomizers and the cigarette itself. The cartomizer is the component that includes the cartridge with the liquid plus the atomizer that will turn it into vapors. Depending on the price you'll pay, you'll get more or less of them. Sure, if you never tried a vapor cigarette, you can order some disposable ones, that are much cheaper for a short period and will help you understand if this is the solution for you. Combining these affordable solutions with their free shipping makes this site the very best place where to buy from.
Now that you understand that this site is one that can be trusted, I'd like to tell you more about the product itself and why you need their cigarettes. The first thing I noticed at their products is that they take the nicotine concentration really serious, that's why all the cartridges are labeled with how much nicotine it contains and what's exactly inside. I loved the fact that they offer cigarettes that look exactly like the analogs, but if you don't mind being approached by everyone that sees you vaping, you can buy a flashy platinum e-cig, that's more a gadget than a vapor cig. The accessories you'll get are simple: an AC adapter and a USB charger, doing exactly what they should do, without any problem, letting the cartomizers be the real stars. The flavors you can get go from the classic ones like menthol, chocolate or coffee, to some bold aromas like strawberry, Irish cream or pineapple.
This shop is one that offers quality products, designed in a way that makes them last a lot, with varied cartridge flavors and a flawless ordering system that won't waste your time or money. Browse the categories, pick your product and get it directly to your house in no time.
RELATED REVIEWS: