NICSTICK EGO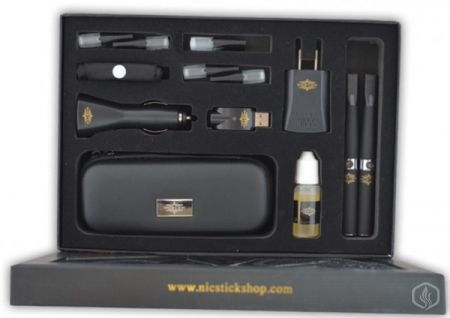 NicStick is a US based electronic cigarette manufacturer that earned its place amongst the most appreciated e-cigs brands. They sell high quality e-cigarettes at reasonable prices and that is why many people prefer their products. Aiming at providing customers with the best vaping experience possible, NicStick offers many purchasing options and features that will help you make the best decision. Their NicStick EGO Gift Set is top of the line and it sells for only $79.95. If you purchased an e-cig before, you might be reluctant to spend that amount for a gift set, but the minute you will see how many pieces it includes you will want it for yourself.
The gift set consists of two 300 time recharge batteries, two tank EGO atomizers, a 10ml bottle of NicStick e-liquid, and five prefilled Tank cartridges. But, that's not all; to these they added a large carrying case, a USB charger with Auto Shut Off, a car adaptor and a wall adaptor. And they're all only $79.95. The NicStick Tank Ego unit is the most powerful unit the brand produces, using a 650 mAh battery. However, the EGO Gift Set contains two of them, so you will not have to stop your vaping experience, as one charge lasts anywhere between 24-48 hours, depending on how often you use it and the battery has a longer life span than other brands.
This specific electronic cigarette has a sleek design that follows the three piece format- battery, atomizer and cartridge. The vapor production is very rich and the flavors are rather crisp and tasty. Thanks to their e-liquid you can refill the cartridges yourself, using your favorite flavors, in no time. Very easy to use, the NicStick Tank Ego e-cigarette provides great taste and incredible vapor production. Buying the Nicstick EGO Gift Set will prove to be an incredible deal and you will discover as you start using it that it was worth every penny. After all, other brands don't offer half of these pieces but charge a similar price.
With this gift set you get great quality and quantity, and it will feel like a bargain once you get to try the e-cigarette. It tastes great, it feels stunningly similar to an analog, and has a really interesting and classy design. The batteries charge faster and last longer, the flavors are rich, the vapor is thick, and changing or refilling cartridges has never been easier. NicStick EGO Gift Set is definitely the way to go, whether you buy it for yourself or for someone close to you.
RELATED REVIEWS: