iJoy Captain 234W TC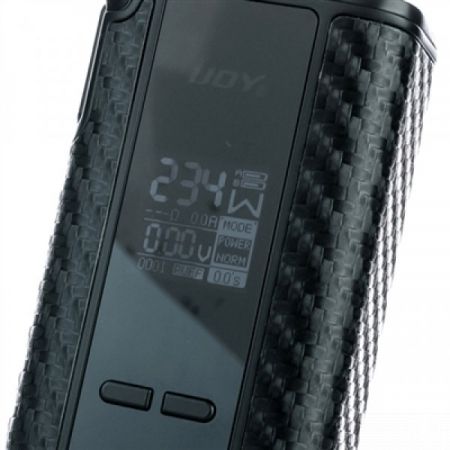 With such high power output the iJoy Captain 234W TC is definitely a tool for experienced vapers and it's just perfect for any high end atomizer or tank. The beautiful carbon fiber finish, 0.96 inch OLED display and versatility make this mod a best buy. At just under $70 it offers the same build quality and features as a $200 device so it's clearly worth checking out.
What's in the box
The iJoy Captain 234W TC is the first 20700 battery mod we tested and we're so glad these are included. It comes packed in a lovely white cardboard presentation box and inside you will find the powerful box mod, a micro-USB cable, two 20700 cells, a 18650 battery adapter and the user manual. That's right, you can use it with both these types of batteries and that's a big thumbs up on versatility. Also it has upgrade-able firmware, which means you will always get the newest features and updates.
Design and features
While bigger than your average dual 18650 device, the iJoy Captain 234W TC is a thing of beauty. The device measures 89mm x 48mm x 32mm and it's powered by a IWEPAL chip. It has a solid 510 spring loaded connector on top and it can fit atomizers up to 30mm without even the slightest overhang. The fire button is just massive and extremely responsive and the OLED display is bright and full of information.
We also love the menu system on this bad boy. It's one of the most intuitive we've seen and you can basically edit everything from the type of output in variable wattage mode to the TCR values in TC mode. There's even a user defined power curve that looks a lot like the equalizer on a sound system. This way you can fine tune the way the mod hits the coil in the 12s cut-off interval. Another thing we love is the fact that you can easily adjust the wattage while in TC mode by pressing the fire button and up button together.
Variable wattage can be set between 5 – 234W and temperature control works with Nickel, Titanium, Stainless Steel, and TCR. Minimum resistance you can use on the iJoy Captain 234W TC is 0.05 Ohms. With the provided silicone sleeve you can always use your set of 18650 high drain batteries if you don't have any other 20700s lying around. There's absolutely no rattle and the build quality on this is just phenomenal.
Performance
When it comes to performance the iJoy Captain 234W TC is one of the "hard to beat box mods". The 20700 cells offer a lot of power and it's the perfect match for any 24 – 30mm high end RDA, RDTA or sub ohm tank. We didn't find any cons with it and we mostly used it between 60-80W. In these conditions the batteries lasted for a full day at the office and this rarely happens with the devices we test. All in all, a great product at a very affordable price.
RELATED REVIEWS: