iJoy Solo Mini 75W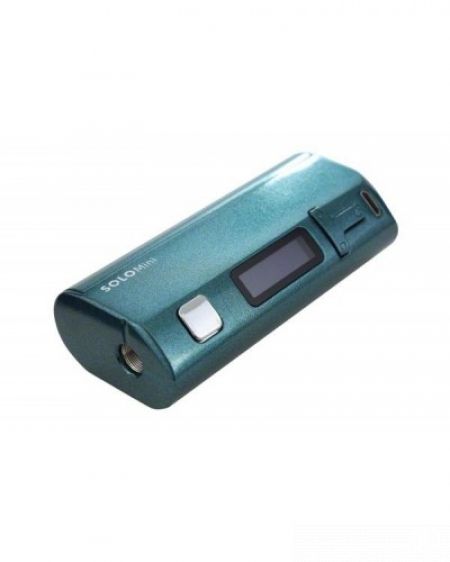 Many of today's mods do temperature control but this one, besides Nickel, Titanium, and Stainless Steel, includes a similar feature for Kanthal as well. Say hello to the iJoy Solo Mini 75W, a compact and colored box mod with a very interesting design and a cool graphical user interface. It comes in seven different colors including black, green, red, and white and it has a special feature called 'taste control' that prevents dry hits even with regular wire.
The iJoy Solo Mini comes packed in a black cardboard box and inside you will find the mod itself, a micro-USB charging cable and a user's manual. The first thing you'll notice is the ergonomic design that feels so natural in the hand as it's cut at an angle. We found it to be perfect for both right handed and left handed people and the big firing button makes it easy to locate and press. The mod is powered by a single high drain 18650 battery (not included) and the outer shell is metallic. The finish is gorgeous and that green one looks so nice with the glossy paint.
On the top side of the mod we have a spring loaded 510 connector with three air channels cut into to the mod, and going down on the main side we have the firing button, the bright display as well as the up and down buttons and the taste control button merged in a 'T'. Just below the buttons there's the micro-USB charging port and you should know this mod doesn't have up-gradable firmware.
On the back side we have the battery door that's held in place by two magnets. The negative battery pin is spring loaded but unfortunately the cover has a bit of rattle and doesn't come with any venting holes. However there is a seam between the door and the rest of the body so in case of battery failure it will probably vent through there.
The iJoy Solo Mini can go from 5W all the way up to 75W in regular variable wattage mode and it can work with resistances anywhere between 0.1 – 3.0 Ohms. It has a maximum output voltage of 7.5V and a maximum current of 35A. It also does temperature control with Nickel and Titanium coils and it fires as low as 0.05 Ohms in this mode.
In standard variable wattage mode the display indicates the atomizer resistance, output voltage, output current, the battery bar, output wattage and puff duration and once you find your sweet spot you can get it into taste control mode by long pressing on the dedicated button. In taste control mode it displays the same info as before, but with two additions – the e-liquid indicator and the temperature percentage. You can adjust the temperature percentage from 80% – 110% of the value determined for your sweet spot and the e-liquid indicator will warn you and cut off power when you're about to take a dry hit.
We don't know exactly how the iJoy Solo Mini can tell when the resistance starts getting dry, but it works and we tested it with three different tanks. Once the drop indicator starts blinking you know you're e-liquid level is drastically low in your tank. By adjusting the temperature percentage you can boost or lower the vapor production at the wattage of your choice. This is a very interesting feature, which makes the mod quite unique and gets a huge plus from us.
It also works in temperature control mode with Nickel and Titanium coils, and you also get the taste control option, which can be activated as in variable wattage mode.
We've noticed the vapor being a bit hotter than on other TC models (in comparison with the VTC Mini from eVic for instance), however that's definitely not a deal beaker for us. It hits pretty good and it can produce huge clouds when paired with an equally potent tank or RDA. At a price of $55.49 is certainly something worth buying, especially if you want to experiment with temperature control and taste control for the best dry hit prevention.
RELATED REVIEWS: