Joyetech eVic AIO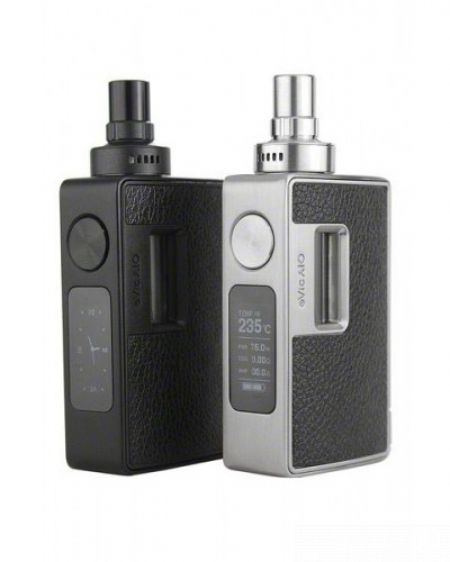 Since the Cubis tank we've seen Joyetech's leak proof coils in a variety of devices, but none of them as classy as the kit we are going to talk about today. A luxurious box mod with a beautiful analog watch display that's built for high performance and delicious flavor. The Joyetech eVic AIO offers premium features and it has leather like insertions on the front and back panels for that high quality vibe.
The high end starter kit comes packed in beautiful cardboard gift box and inside you will find the device itself, a micro USB cable for charging and firmware upgrades, four replacement coils, replacement covers, a bag of organic cotton for the LVC coil, a user manual and a 510 atomizer adapter. Since Joyetech's design uses a tank enclosed within the mod, they decided to provide an adapter if you ever want to use it with any other 510 threaded atomizers you might have lying around your desk.
The Joyetech eVic AIO has a relatively small form factor and it fits the palm of your hand just perfectly. The power button is big and has just the right amount of feedback when is press it. The OLED display is crisp and shows detailed info about battery life, atomizer resistance and current wattage or temperature. It's a single 18650 mod, therefore the maximum power output will be 75W. Since the battery is not included we highly recommend getting a high drain cell rated for at least 25A.
Besides regular power mode – or variable wattage – the Joyetech eVic AIO also does temperature control for Nickel, Titanium and Stainless Steel as well as TCR and Bypass. Temperature range is between 200°F-600°F.
Since it's an AIO system, the tank is integrated in the body of the mod and it has a total capacity of 3.5ml of e-juice. It's leak proof, comes with adjustable airflow and one of the coils even has e-liquid flow control. However, the only con we found with this device is spit-back. This happens quite often with the 0.25 Ohm and the 0.5 Ohm coils and only at times with the mouth to lung 1.5 Ohm coils. Even if you manage to clear the coils it's still prone to flooding and spit-back each time you leave it on the desk for a couple of hours. If you plan to use it in mouth to lung mode, then you do get a spiraled mouthpiece that prevents this issue. Also, you can mount the provided 510 adapter and use the mod with any other tank.
The Joyetech eVic AIO is one of the most beautiful mods we've tested in 2016. It's packed with features and protections and it has that luxurious feel to it. You can do firmware upgrades, change the fake leather panels and even use it with any 510 threaded tank or atomizer. The only downside is the spitback, but we hope Joyetech is going to fix this with its future generation of coils. All in all it's a great device to have and the flavor is outstanding with the sub ohm atomizer heads, especially the NotchCoil version.
RELATED REVIEWS: