Kanger TOGO Mini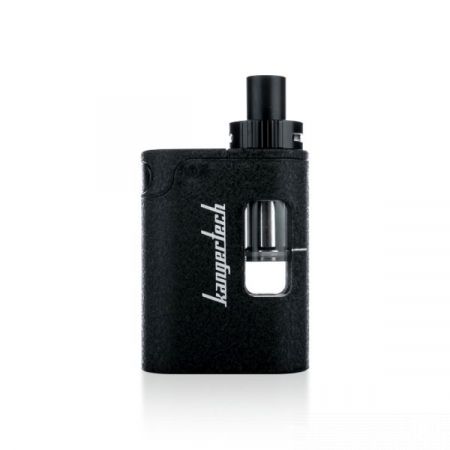 We are big fans of all in one devices but we've never seen something as tiny as the Kanger TOGO Mini until now. It comes in three different colors and it's going to fit inside any pocket. And since it's coated with a durable finish it won't get easily scratched by keys or coins – even though we don't recommend putting them in the same place as your vape.
What's in the box
The Kanger TOGO Mini comes in a nice black presentation box and once you open it prepare to be blown away by its size. It measures just 76.5mm x 44mm x 22.5mm with the drip tip on and weighs around 140g. With this kit you also get a 1.0 Ohm Nichrome coil, a micro-USB cable for charging, a spare glass tube, a bag of spare parts and the user manual.
Design and featured
On top of the device we have the mouthpiece, airflow adjustment ring and battery indicator, the fire button on the main side and the micro-USB slot on the right. It's a pretty straight forward vape with single button operation and the tank embedded in the body. For mouth to lung users – and you can definitely mouth to lung this – there's a special tiny hole in the airflow ring so you don't have partially cover the big slot like on other devices. This is a nice little pro and does a very good job.
From what we've seen online there are versions of this device with 3.8ml e-liquid capacity. Sadly ours had only 1.9ml and it's probably intended more for the European market. On the bright side, the Kanger TOGO Mini is leak proof and the coils don't get flooded as often as on other similar AIOs.
Despite is compact size, this vape mod hides a pretty decent battery under the hood. It's powered by a 1600mAh Li-Po cell and in combination with the 1.0 Ohm coil you're looking at at least 6-8h of vaping depending on style. It's a great thing to take with you at the office and the LED battery indicator on top will always show you when it's time to recharge.
There's no adjustable wattage or temperature control with the Kanger TOGO Mini and there's no display. It's a very simple all in one device that adjusts power according to the resistance of the atomizers. As a small side note you can use it with any CLOCC coils, as the minimum resistance is 0.15 Ohms.
Performance
The Kanger TOGO Mini is a decent performing tiny AIO device that's intended for beginners. Flavor and vapor are pretty good but don't expect something similar to a CUPTI. It's a mod that does well particularly with the ladies and feels quite durable.
RELATED REVIEWS: