Sigelei TOP1 230W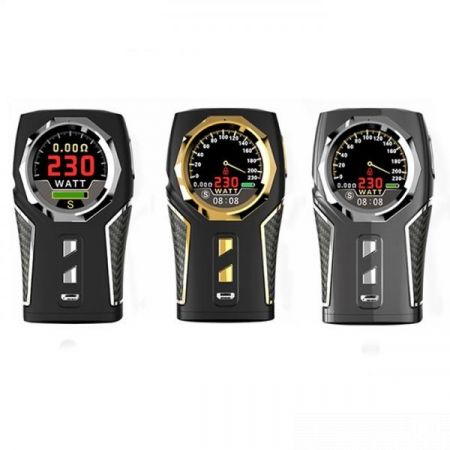 We've tested several sports car inspired mods until now, but the Sigelei TOP1 230W is one of the coolest. This 230W powerhouse looks and feels very luxurious and hits like a locomotive. It's packed with features and the menu system has been completely rethought.
What you get in the box
Presentation is pretty impressive since the Sigelei TOP1 230W comes packed in a high end metallic box. Inside you will find the mod itself, a micro-USB cable, the user manual and warranty card. It is available in three different color schemes, with Black/Gold being our absolute favorite.
Design and main features
The design of this mod is also quite unique. It measures 89mm x 56mm x 32mm and the body is made from Zinc alloy. The 510 connector is placed on top and can accommodate atomizers up to 28mm in diameter. On the face of the mod we have the beautiful 1.3″ color display, with the two adjustment buttons and micro-USB slot underneath. Fire button is placed on the side and feels very natural. The battery door is on the bottom and has a nice slide to unlock mechanism which doesn't rattle. The side panels are made from carbon fiber and really add to the overall sports car theme.
The Sigelei TOP1 230W is powered by two high drain 18650 batteries. This device can go from 10W – 230W and does all your temperature controls. It even has different presets for SS316 and SS317 just to keep up with modern day requirements. Temperature range is between 200F – 570F and minimum resistance is 0.05 Ohms.
Press the fire button three times to get into the menu section and here you can make all the adjustments. You can also select between Normal, Soft, Hard and User modes, which dramatically change the overall vape experience. When you select Hard the Sigelei TOP1 230W hits instantaneously, almost the same way as a competition mech mod. The chip is extremely accurate and we didn't encounter any bugs during our tests.
The display looks stellar
The display is beautiful and the user interface is very similar to a car's dashboard. It shows current wattage or temperature as well as the resistance, battery life and preset mode. You can adjust the background color and customize the experience to the last detail. The stainless steel shield on the back of the mod is nicely built and makes this device look even more luxurious.
Performance and conclusions
When it comes to performance the Sigelei TOP1 230W truly behaves like a sports car. It hits the coil at lightning speed and provides a very good overall experience. You can use it with any high end sub ohm tank or RDA to enjoy big flavorful clouds all day long. It's a bit on the bulky side and the menu system takes some time to get used to, but overall it's good quality mod.
RELATED REVIEWS: