SMOK OSUB 80W TC Plus Starter Kit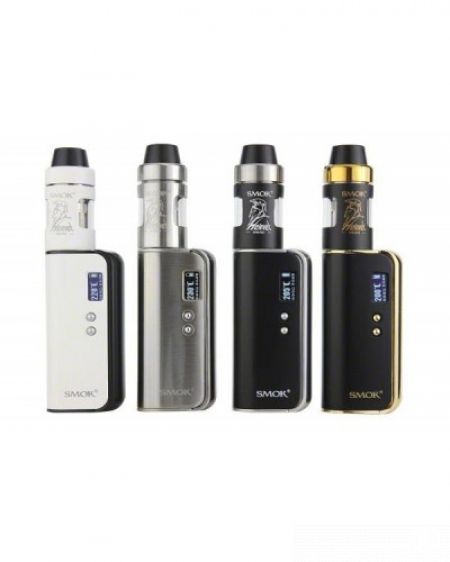 By far one of the sexiest starter kits I've tested so far, the SMOK OSUB 80W TC Plus not only looks good but it's also packed for incredible performance. With a built in battery and a state of the art sub ohm tank, this personal vaporizer delivers incredible flavor and some of the puffiest clouds out there.
Measuring just 75mm x 54.5mm x 25mm, the SMOK OSUB 80W TC is a compact and powerful mod with an integrated streamline design that does variable wattage and temperature control. It comes with a good quality 510 connector on the top, the display, adjustment buttons and charging port on the face of the mod and the fire button (or bar) integrated into the main side. This makes the device very comfortable to hold and to use and all of the buttons are quite responsive.
The vape mod and tank combos are available in two different colors (black and stainless steel) and they both look chic and ready for action. The Brit Beast tank that comes in the kit really matches the whole design of the mod (it even has approximately the same diameter as the depth of the device) and has a total capacity of 3.5ml.
The SMOK OSUB 80W TC mod is powered by an internal LiPo battery rated at 3300mAh and it has a voltage range between 0.8V – 9.0V. In regular power mode it can fire down to 0.1 Ohms, while in temperature control mode the minimum value for the resistance is 0.06 Ohms. The micro-USB slot features 1A charging and it takes around 4h to get the battery from 1% to 100%.
The Brit Beast tank comes with a pre-installed V8 Baby-Q2 0.4 Ohm coil (which is by far one of my favorite coils so far) and you also get a spare one and a spare Pyrex glass tube. It features a very practical top fill mechanism and it's compatible with the majority of TFV8 Baby cores (even the RBA section).
The OLED display on the SMOK OSUB 80W TC is very bright and I had no problems reading the info even in direct sunlight. I've mostly used in in variable wattage mode at around 60W and I have to say these V8 Baby-Q2 0.4 Ohm coils are fantastic. They wick properly, they deliver a massive amount of vapor and the flavor is top notch. I didn't get dry hits or flooding (used mostly 70/30 VG/PG ejuice) and the 3.5ml capacity is enough to last you at least 2-3h between refills.
RELATED REVIEWS: