SMOK OSUB King 220W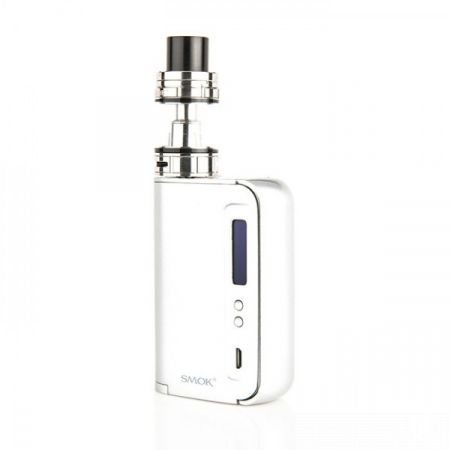 When it comes to high wattage starter kits it's hard to beat the SMOK OSUB King 220W. This 220W dual 18650 bad boy comes with an equally powerful Big Baby Beast tank and it's designed for amateur cloud chasing. It works well with high VG e-liquids and build quality is very good in this prince range.
What's in the box
The SMOK OSUB King 220W kit comes packed in a black presentation box. Inside you will find the mod in your choice of color, the tank, two sub ohm coils, a spare glass, spare parts, a cable and the user manual. There are five shades of color for the mod, including a vibrant rainbow version.
Design and main features
The device measures 81mm x 58mm x 25mm and is very comfortable in the hand. It has just the right amount of weight to it and the C-Shaped lateral fire bar feel so natural when pressed. The body is made from Zinc alloy and the finish looks durable over time.
We have a spring loaded 510 connector on the top of the SMOK OSUB King 220W, with the OLED display, micro USB slot and plus/minus buttons on the face of the mod. The battery door is at the base and it has no rattle. We recommend using two high drain 18650 cells with at least 25A continuous discharge current. We also recommend using the manual carefully prior to setting up the device.
The SMOK OSUB King 220W is a variable wattage mod that also features temperature control. Output power ranges between 1 – 220W and the voltage between 0.8 – 9V. Minimum atomizer resistance is 0.1 Ohms and temperature control works with Nickel, Titanium and Stainless Steel. The menu is very intuitive and the OLED display is crisp and readable even outdoors.
Besides a smart way to recognize the type of atomizer you put on top of it, the mod also features overheat protection, short circuit protection, 12s cut-off and low battery protection.
The Big Baby Beast tank you get with the kit matches the color of the mod and the two coils are just perfect for the output wattage. The 0.4 Ohm coil is recommended between 30-80W and it offers a cooler vape, while the 0.15 Ohm version can go up to 100W. Bot atomizers cope well with high VG e-liquids and they don't flood or give dry hits. Airflow is smooth and flavor is one of the best we experienced.
Performance
We recommend the SMOK OSUB King 220W to mid range vapers and experienced users. And while sub ohm loving beginners could give it a try, these coils require plenty of power and they put out a vast quantity of vapor, which can be overwhelming at times. The mod works without issues and you can use it with any 22-24mm atomizer you might have.
RELATED REVIEWS: