Tesla Invader III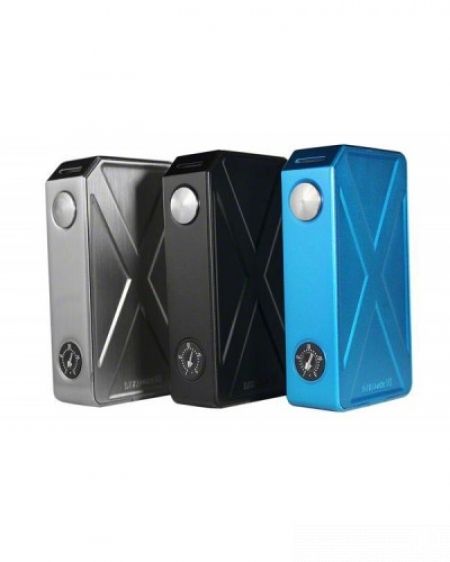 We don't get a lot of variable voltage devices these days, but the Tesla Invader III is certainly one of the exceptions and it's one of our favorite brute force mods that embodies the raw power of an unregulated mech mod with all the safety features we enjoy on electronic mods. It's a solid device with a very distinct look to it, that hits like an absolute powerhouse and is designed to put a smile on any vaper's face.
The Tesla Invader III comes packed in a black cardboard box and inside you will find the device itself and the user manual. You don't get a charging cable for this mod as you will definitely need to have a desktop charger for it, but other than that it's a fairly simple, mechanical box mod styled vaporizer that only comes with a fire button, an LED notification light and a potentiometer.
The mod is available in three different colors – stainless, black and blue – and despite being advertised as a 240W device, it can even go a big beyond that limit when used with high drain batteries. But the fact it, this is a variable voltage device not a variable wattage, so the total wattage output will ultimately depend on the charge of your batteries and the resistance of the atomizer.
On the top side of the Tesla Invader III we have a spring loaded 510 connector with a silver plated brass pin, and a blue LED notification light that will blink each time you vape, or when there's a problem with your atomizer or with the batteries. On the main side there's a big round fire button and below it there's the potentiometer that indicates the roman numerals I – V. Depending on how you adjust the knob (and you can do this with your fingernail) you're adjusting the wattage from a minimum of 3.6V to a maximum of 6.6V but there's no actual way to know for sure the exact value you're setting. So it's more of a turn and vape kind of process until you're satisfied with the result.
This particular mod can fire down to 0.1 Ohms and has a maximum current limit of 45A, which is more than impressive. It also means that when you're building that low you must use batteries rated for at least 25A (the maximum is 30A) and go for a respectable brand like the Sony VTC4s. The battery door is located on the face of the mod and it's held in place by magnets. Inside you will notice that the cells need to be connected in series and that the upper pins are spring loaded.
The Tesla Invader III has multiple safety features such as short circuit, low voltage, over current, and reverse polarity protections and it will also blink when it gets too hot. When you're building to low and using a high voltage that will exceed the 45A limit the device will automatically cut the power to the coils. It has a depth of 23mm, and despite being intended for 22-23mm atomizers (especially RDAs) on top of it, it's going to look nice also with a 24mm RDTA for instance. It hits very hard, it's very responsive and it will always give you that raw feel that only mechanical mods do.
Pro tip: If this mod is of your interest, you might like our selection of our best vaping mods
RELATED REVIEWS: