Tesla Stealth Mod Kit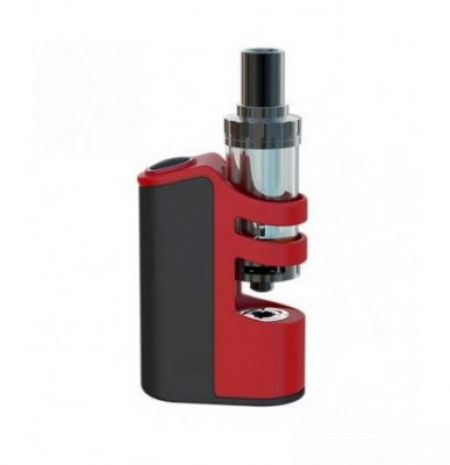 When it comes to stealthy vapes you do have a number of options these days, however one of them really stands out due to its outstanding design. It's called the Tesla Stealth Mod and it's basically an unregulated device, with a recessed tank on the back that can reach a up to a whopping 100W, depending on the resistance of your coil.
The Tesla Stealth Mod Kit comes packed in a lovely black cardboard box (that looks like a ladies' accessory box) with two "drawers" and inside one of them you will find the mod itself and inside the other you will find the tank, a spare glass tube, a spare coil, a bag of O-rings and a micro-USB charging cable. The finish on it feel rubbery but very durable and it only measures 70 x 50 x 25mm so it's a very stealthy device. It has a total weight of no more than 150g and it feels perfectly balanced in the hand.
The coils remind us of the ones from the Aspire Cleito and they are pretty beefy considering they also include the chimney section of the tank. The juice feeding holes are quite generous and while we used it a fair amount of time during testing these coils seem to last a very long time before giving any sort of burnt taste. They come in 0.28 Ohm as well as 0.6 Ohm versions, with the 0.28 Ohm coils producing way more vapor but draining the battery a lot faster.
The Tesla Stealth Mod is available in four different colors – black, white, blue, and red – and it feels very solid and well built. It has no rattle whatsoever and the design is very simple and intuitive. Basically all you need to do is screw the tank in its dedicated slot and simply press the fire button. The fire button is located on the top of the mod and because it's back-lit it also acts as an indicator for the remaining battery and all sorts of error like short-circuits.
The mod itself comes with an internal 2200mAh battery and you can charge it via the micro-USB slot located on one of the sides. There are venting holes on the bottom and the metallic "cage" surrounding the tank accepts devices with a maximum diameter of 22.5mm. You won't be able to use it with other ultra low profile tanks (except if you have a very tall drip tip) but with regular 22mm tanks you won't have anything to worry about.
The Tesla Stealth Mod will basically hit the resistance at 4.2V with a fully charged battery and the LED indicator will start to blink red when it's under 3.7V and it's time to recharge. This means that it will calculate the wattage depending on the coil you have inside the tank and it can reach a maximum of 100W with a maximum current of 40A. It can also fire down to 0.1 Ohms so we're looking at a very capable mod.
When it comes to performance, the 0.28 Ohm coils do produce a lot more vapor but the 0.6 Ohm coils are also quite good and they give you at least an extra hour of vaping. The fire button works flawlessly and we didn't encounter any issues with the device. Because it doesn't have temperature control protection you will need to prime your coils but other than that it's a great kit for everyday use.
RELATED REVIEWS: