VaporFI V Grip 220 TC mod review - powerful box mod with temp control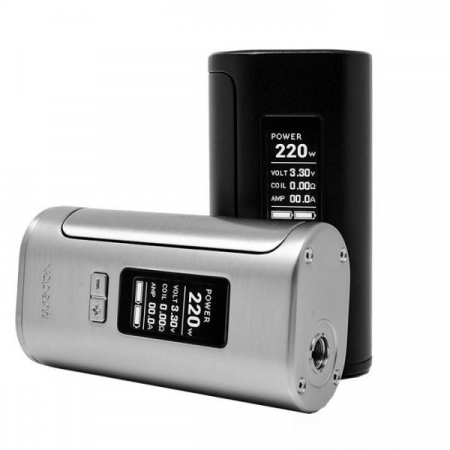 What you get inside the box
The VaporFI V Grip 220 is available in two color options: stainless steel and black and it comes packed inside a standard white and green box. Inside you will find the device itself, the user manual and an USB cable for charging.
The overall design
This is probably one of the most appealing and best built mods we tested in 2018. The body is made from high quality Zinc alloy and has a nice brushed finish. Comes with a spring loaded 510 connector on top, which unfortunately is not centered. The fire bar is placed on the side and has a nice clicky feel to it. On the front of the box mod we have the display as well as the adjustment buttons and charging port.
This device is powered by two high drain 18650 batteries and to get access to the compartment you simply need to slide and unlock the door at the bottom.
It accepts tanks up to 25mm in diameter without overhang and the ergonomic design makes it sit perfectly in the palm of your hand.
The chip and main features
The VaporFI V Grip 220 TC mod fires instantly and comes with a very bright display. It features adjustable power output up to 220W and temperature control. There are designated profiles for nickel, titanium and stainless steel and we also have TCR functionality. The Bypass mode will make the device function like an unregulated mod and deliver power according to the resistance you are using.
The device fires down to 0.1 Ohms and maximum current is 50 Amps. Cut-off interval is 10 seconds and temperature can be set between 200 – 600F. One cool feature of the V Grip 220 is that it allows the user to adjust wattage in TC mode.
Another interesting feature is the real time clock display, which can be set by pressing the fire bar three consecutive times. It shows the current time and you can select between a digital and an analog clock. This mod also comes with multiple safety features like low voltage, short circuit and low resistance protections.
Performance
Performance-wise the VaporFI V Grip 220 TC box mod does its job flawlessly and it's perfect for any sub ohm tank or RDA. The chassis is made from high quality metal and the finish looks durable and nice. Button placement is very good and the ergonomic design makes it easy to use and to carry around. It's a big heavy and bulky but the only con in our opinion is the fact that it works with atomizers just up to 25mm.
RELATED REVIEWS: