Vaporfi Orbit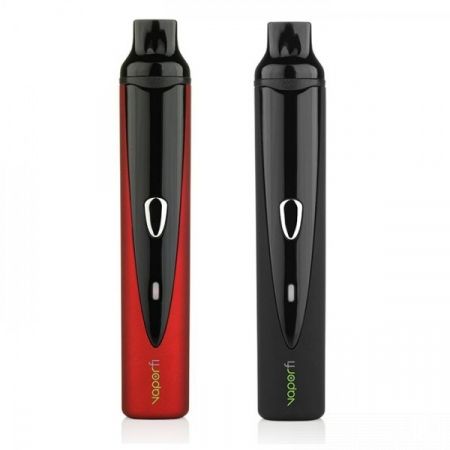 If you're looking for a dry herb vaporizer that's portable, affordable and easy to use then the Vaporfi Orbit is our number one recommendation. With a price tag of just under $100 this device doesn't feel at all cheap and it even managed to survive a drop from our desk with not a single scratch.
What you get
The Vaporfi Orbit comes packed in a standard cardboard gift box. Inside you will find the device itself, a USB charging cable, a cleaning brush, 5 spare screens, different silicone mouthpiece covers and the user manual. The three short covers are for shared sessions while the two longs ones are for when vaping at the highest temperature settings to prevent your lips from getting burnt.
Looks and features
The device feels pretty durable, except for the mouthpiece. This is probably going to need replacing every once in a while because it's susceptible to cracks. However you can always find spares on Vaporfi website if you drop yours or subject it to constant high temperature shifts.
On top of the Vaporfi Orbit we have the mouthpiece, with the protective mesh attached at the bottom. Then just under the mouthpiece we have the heating chamber, which works by conduction. The device has a single button on the middle, an LED notification light underneath it as well as a micro-USB charging slot on the base.
When you first receive the device that battery is going to be around half full. You will need to connect it to your USB port and let it charge for at least 5h until it has reached full capacity. Unfortunately Vaporfi didn't include a wall adapter with the kit and with some old laptops or PCs the whole process can take even longer.
Preset temperatures
The Vaporfi Orbit is powered by a non-removable 2200mAh battery. You can buy the device in two different colors – red and black – and there are 3 different temperature settings you can use. When the LED light shows red the selected temperature is 360F and it should take the device around 60s to heat up. Next is green with 380F and finally blue with 420F.
For best results in terms of vapor production and flavor we recommend the highest temperature setting. Also it's a good idea not to overfill the chamber as this might results in an uneven heat distribution. When vaping at 420F the mouthpiece and vapor tend to get quite hot and that's why it's good to use the long silicone sleeve. This will cool down the vapor and keep your lips off the heat.
Performance
Vapor production is not that great with the Vaporfi Orbit, but then again this is an entry level device designed more for flavor. It's extremely easy to use, portable and delivers a great experience. Heat up times can be longer than on high end vaporizers but this has no impact on the flavor. It's a great starting point for beginners looking to experiment with dry herbs.
RELATED REVIEWS: