VaporFi V-Grip 75 TC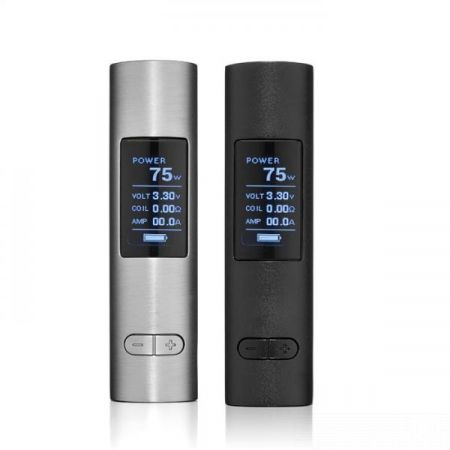 The VaporFi V-Grip 75 TC is the perfect entry level device for beginners and intermediate users. This single 18650 battery box mod features variable wattage up to 75W and temperature control for Nickel, Titanium and Stainless Steel. It also comes with TCR as well as a bypass mode for direct voltage output.
Packaging
Inside the white and green cardboard box you will find the VaporFi V-Grip 75 TC mod itself, a micro USB charging cable and the user manual.
General features
The design is elegant and compact, with a brushed metallic finish. On top we have the spring loaded 510 connector which can accommodate atomizers up to 24mm in diameter. The fire bar is located laterally and it's integrated in the battery door. There's an on/off switch on the top, which locks the device and prevent accidental misfire in your pocket. The OLED display and adjustment buttons are placed on the main side, and the micro-USB slot on the front of of the mod.
The battery door is also the fire button
The battery door / fire button is held in place by very strong magnets and has no rattle. Pressing the button feels very natural and with the ergonomic shaped it fits just perfectly in the hand. The two up/down buttons are very clicky and the menu system is easy to use. Just press on the fire button three times and start going through all the settings.
Maximum wattage and TC
Wattage range on the VaporFi V-Grip 75 TC is between 1W and 75W. Temperature control is from 200F – 600F and it can also be set to Celsius between 100C – 300C. There are three memory modes M1 – M3 which can store your favorite settings, depending on atomizer.
The mod is powered by a single 18650 battery and this makes it perfect for beginners and intermediate users. It's charged via micro-USB in around 2h – 3h and lasts anywhere between 4h to a full day, depending on usage. We recommend pair it with a mid-range sub ohm tank or atomizer and rock it at 35 – 50W for best results. It's compatible with 22m – 24mm atomizers and and the Volt 2 hibryd tank from Vaporfi makes a great combo.
Performance
Build quality and materials used are the strong point of this box mod, aside from it's good performance in day to day conditions. The VaporFi V-Grip 75 TC is a solid cloud chucker, packed with features and easy to use. A bit pricey for what it offers, but you do get excellent customer support and money back guarantee. The fire bar is a nice added touch and makes it feel so natural in the hand.
RELATED REVIEWS: