VaporFi VAIO 80 TC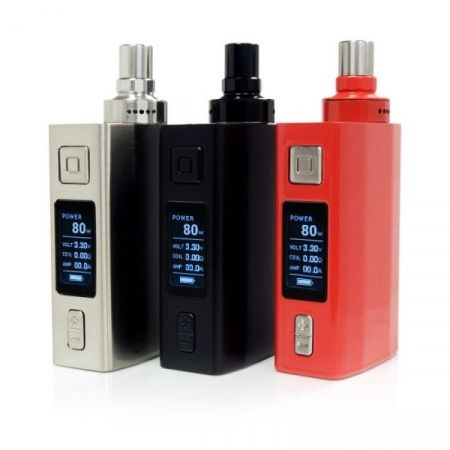 For all those looking for a great all in one device, the VaporFi VAIO 80 TC is an excellent choice. We got this in December and were really impressed by the build quality and design. It's part of the new leak proof generation of vape kits and it accounts for a very pleasant experience in general. Besides these, it's simple to use, elegant and dependable so it's the type of go to mod you slowly grow to love.
The VaporFi VAIO 80 TC comes packed in a green and white gift box and inside you get the mod itself and the tank, a spare 0.5 Ohm coil, a user manual, a tank adapter, and a micro-USB charging cord. It's available in black, red and stainless steel and the tank matches the color. This type of all in one design integrates the e-liquid chamber into the body of the mod, making it compact and easy to carry.
If you're not fully satisfied with the provided tank, there's also a metal adapter that goes inside the chamber and transforms into a fully functional 510 connector. This way you can use the mod with any other tank, RDA or RTA you might have around the house. However, we found the default tank to be a great option, offering good flavor and impressive vapor production.
Filling the chamber with e-liquid and swapping coils is a simple process and much easier than on older Vaporfi tanks. The menu is very intuitive but we suggest reading the manual first just to understand all of the features. Besides going from 1-80W in variable wattage mode, the VaporFi VAIO 80 TC also does temperature control and bypass. In temperature control mode you can use it with Nickel, Titanium and Stainless Steel and there are also three memory options. Since the provided coils are made from SS means you can use them in power mode, bypass and even temperature control mode.
This all in one kit is powered by an internal 2100 mAh battery and this packs enough juice to get you through the whole day. This of course if you use the 0.5 Ohm coil. If you're more into the 0.25 Ohm NotchCoil you're looking at around 4-5h of moderate vaping, but with much bigger clouds and better flavor. We did notice some spit-back from these coils, especially after a few hours of sitting on the desk but it went away after a few pulls.
It takes around 3h to fully charge the battery and the micro USB slot is conveniently placed on the side of the vaping mod. We found 38W to be the sweet spot for the 0.5 Ohm coil and 55W for the 0.25 Ohm version. Each of these coils offers stunning flavor and they are cheap to replace. They don't have a big break-in period and the airflow is just perfect for us.
The only con with the VaporFi VAIO 80 TC would be the 3.5ml tank capacity, which at 55W tends to last for 2h tops. This is why it's a good idea to take your bottle of e-liquid with you at the office. With the 0.5 Ohm coil the liquid consumption was lower and in the end this was our favorite. While not exactly cloud chasing material, it offers a good flavor to vapor ratio as well as it helps preserve battery life and e-liquid.
RELATED REVIEWS: