VaporFi Venom RDA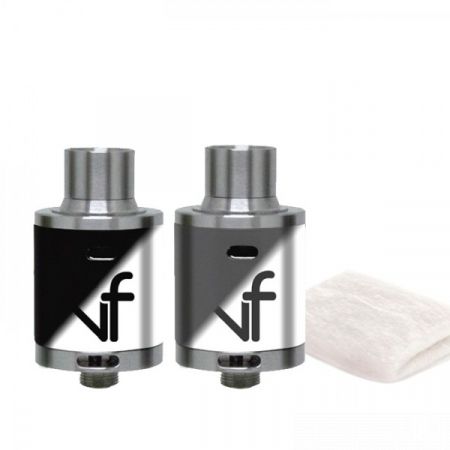 Part of the newest generation of vaping products, the VaporFi Venom RDA is a really powerful and easy to use rebuildable dripping atomizer that changes its color once you use it at wattages higher than 80W. It is available in two different colors – black and grey – but it turns completely white and with a beautiful "Vaporfi" logo once it reaches a certain temperature. This adds a note of originality to the atomizer and it's something you'll enjoy showing off to your friends.
It comes with two drip tips (Stainless Steel and Delrin) and a bag of goodies with spares and an Allen key for mounting the coils. It's comprised out of four different components (the base with the build deck, the barrel, the top cap with the airflow adjustment and the Delrin mouthpiece – or the adapter + SS mouthpiece) and it's very easy to take apart and to clean.
The VaporFi Venom RDA is made from good quality stainless steel and the build quality on it is solid. It has a diameter of 22mm and because it comes with the highly popular Velocity deck, building coils on it is always a pleasure. The post holes are quite generous and you can fit through there stuff like Claptons or Tiger without any difficulties. The bottom airflow holes remind me of those on the Kennedy, however, in the case of the Venom they split into three channels (one big and two smaller ones) right under the coils. On the top side the airflow slots need to be aligned with the ones on the base, and to adjust the looseness or tightness you simply need to twist the top cap.
On its widest setting the VaporFi Venom RDA is super airy and this really helps cool down the vapor, especially if you're building low resistances and using high wattage. I wouldn't recommend going under the 0.10 Ohm limit because the heat might affect the internal components afterwards. You can also use this atty in temperature control mode and for this I would definitely go with Stainless Steel wire.
The juice well on the Venom is quite generous and it's enough for me to hold e-liquid for at least 10 puffs. The atomizer does tend to heat up when used with low ohm builds and I would totally recommend using the Delrin mouthpiece in this case. I only used the SS one between 35 – 60W because any higher and I felt my lips getting burnt.
In terms of performance, the VaporFi Venom RDA really chucks clouds like no other atty from this particular company and it's really easy and fun to use. It sits flush on all of my mods and the fact that it changes color is a great bonus on top of all that incredible performance. Flavor is also very intense due to the internal design of the chamber.
RELATED REVIEWS: