The Castle RDA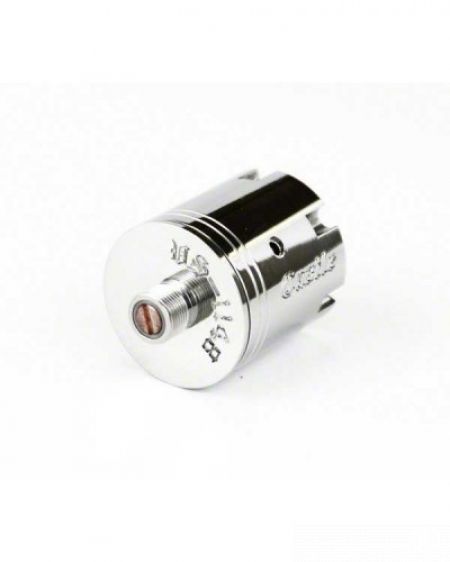 An usual rebuildable atomizer is made of two pieces of stainless steel or another form of metal, called a 'deck' or a 'base', and a 'top cap'. On the bottom of the deck, there is a native 510 threading, and on top there are generally two posts, a negative post and a positive one. The resistance wire made of kanthal or nichrome is attached to these two posts by threading the wire through their specific holes. The top cap has an air hole drilled on the side, unlike conventional atomizers having the air hole located on the 510 connection. The top cap is held in position by 'o-rings' so that the user can adjust the amount of vapor, and throat hit delivered from the coil.
The Castle RDA is a has 3 posts, but what makes this device rather unique is the locking airflow control that looks much like a castle turret. It is made of stainless steel and is extremely well built and it looks amazing with the matching Castle drip tips. Listening carefully to the customers' complaints in older versions of the Castle RDA, the manufacturer managed to solve all of the o-ring related problems and made them extremely tight. It's always nice to see a company that takes the comments to the heart.
The Castle RDA is composed out of three parts – the deck, the air hole sleeve and the outer sleeve/top cap. The deck features three posts with holes in the posts for your coil wire and the standard Philips head screws. The deck features a well, while not the deepest in the world; it will certainly keep the e-juice from leaking. The finish is polished and looks dazzling, with the word 'Castle' engraved to the side.
At 22 mm, this is a wide dripper, but it sits beautifully on most mechanical mods, for a flush and even look. Made from high-grade stainless steel and hand crafted, the 'Castle' is unlike cheaper RDAs and can last a long time, constantly impressing with its performance.
Performance wise, the 'Castle' RDA chucks huge amounts of vapor and you get impressive clouds even at .7 ohms.Another great thing of the inner/outer sleeve configuration is that you've got a built in insulation going with this particular atomizer. It barely gets warm to the touch and for all those 'cloud-chasing' enthusiasts is nice because the heat is controlled really well even when sub-ohming.
Product Contents: 1 x Castle Atomizer Clone; 1 x Bag of spare parts ( mini screwdriver, o-rings, extra screws, and wire);
Product Features: 21mm width x 23mm height (excluding post and drip tip); 510 connector; 3 post design; Copper contact point; 3 part body; Castle engraving;
RELATED REVIEWS: