Seven 22 Super Wattage Mod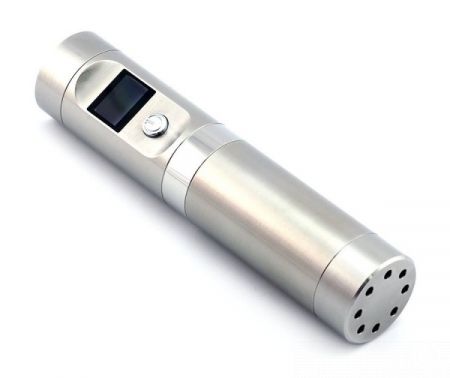 One of the most exciting and hottest selling mods of the year, the Seven 22 is an extremely well made, regulated advanced personal vaporizer that delivers amazing performance at a price tag below the $100 limit. It's a variable wattage tube mode made from high quality stainless steel and is powered by an impressive 26650 battery that offers high amp limit and much longer autonomy than your regular 18650.Yes, it is one of the biggest mods out there and it also feels quite heavy in your hand. However, it makes up for the bulkiness with its impressive vapor production and whopping power because it can reach up to 22 Watts.
The Seven 22 comes in a good quality white cardboard box along with a manual and from the start you'll notice its size and weight when comparing it with other devices you own or have used. Another thing you'll definitely notice is the build quality and the materials. The people at Pioneer4You didn't want to build a cheap device and we have a feeling this is one of the best quality China made mods we've tested so far.
To power on the device you need to press the firing button 5 times and then you'll notice that there are no additional (+) / (-) buttons to go through the settings. The reason behind this is that the Seven 22 has a built in gravity sensing system (or gyroscope) that lets you adjust your preferences by tilting the mod left or right. To get to the main menu you press on the button another five times and then you can choose with additional clicks the wattage submenu, the on/off setting and the exit menu.
The wattage can be adjusted from 7 to 22 watts (hence the name Seven 22) in 0.1 increments. While this gives you the ultimate control over your vaping experience (most other mods offer 0.5 increment changes in wattage), it might seem a bit tricky to go all the way from 7 to 22 by using a gyroscope. However, the mod senses that you need to jump to a bigger or lower setting and accelerates though the numbers in two fast forward steps depending on how long you keep the device tilted.
The generous OLED display is one of the best to be ever mounted on a vaporizer and it shows the current wattage, the output voltage (which ranges from 3.5-8.5V), remaining battery charge and atomizer resistance. It is also governed by the gravity sensing system and it automatically adjusts vertically and horizontally.
The Seven 22 has both 510 and eGo threading and comes with floating pin and an extra deep drip well to ensure good connectivity and compatibility with any tank you use. It also allows sub-ohm vaping down to a limit of 0.5 ohms so it's destined to all those cloud chases out there.
Performance is spectacular with this AVP and honestly, this has been one of the hottest products of 2014 with a constantly growing popularity. Vapor production is mind blowing and the flavor is better than ever before. The Seven 22 is a great buy for both beginners and veteran vapers and it's the "go-to" type of product that will ensure a decent vape for many years to come.
RELATED REVIEWS: