SmokTech Telescope Mod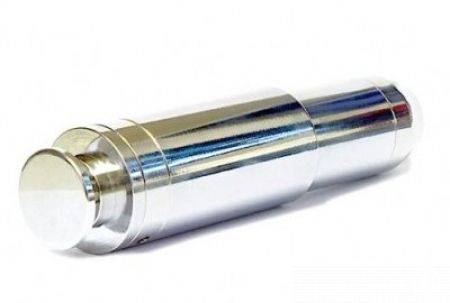 With a beautiful glossy chrome finish, the SmokTech Telescope is a very chic purely mechanical mod that allows you to use multiple types of batteries and it will increase or decrease its total body length accordingly. There are a couple of telescopic mods out there, some require additional tubes for bigger batteries, others just work by unscrewing the two separate parts of the body and some have a longer or shorter bottom cap.
The Telescope works by turning on the two metallic body parts until it fits whatever battery you put inside it, and it does accommodate quite a few: 18350, 18490, 18500, 18650 and even other types. The total body length ranges from only 3.5 inches long in 18350 mode to 5 inches long in 18650 mode. As a side note you can use some of these batteries with a kick too, which is always a good feature for any respectable mechanical.
It comes packed in a nice white cardboard box and inside you will find only the Telescope and an instructions manual, with no additional accessories. However, since this is a mid-range mechanical mod there's not a lot of fuss to deal with when you want a puff. Simply insert your battery, screw on your tank and you're ready to vape. It will work with all atomizers / tanks having the 510 connection on the market today and it operates at 3.7 volts.
This Telescope Mod is the improved vented version, and honestly we've never encountered so many vent holes on a mechanical before. Yes, venting is always good but seeing the battery inside the mod regardless of how you keep it in your hand is not that appealing. However, this is the kind of mod that will take your mind of overheating batteries that's for sure.
The firing button is located at the bottom, it's made from the same alloy as the rest of the body, and a nice thing is that it can hold the weight of the mod without firing. This is great since you can keep your mod upright without any concern. It fires flawlessly and it has a nice high quality feel to it. It has a safety ring you can turn so that the button becomes completely locked, preventing your mod from firing when inside your pocket.
Performance wise, we didn't have any problems with the Telescope, in fact it works great with both a battery or with a battery and kick. The voltage drop was insignificant and as long as your battery is charged, you'll enjoy a very decent vaping experience. If you're looking for a telescopic mechanical mod that performs extremely well and it's reasonably priced then this SmokTech may be the ideal device for you.
RELATED REVIEWS: