The iTaste 134 mini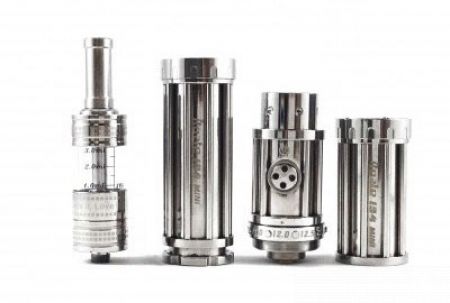 In the last few years Innokin made a name for itself for building affordable high quality AVPs that really amazed the vaping crowd and became iconic devices worth having in your personal collection. With one of the most avant gardist designs to date, the iTaste 134 mini is a real eye candy variable wattage personal vaporizer that built a very good reputation since it was released.
It is like an art work made from stainless steel having a Gatling gun as an inspiration and it looks stunning. From the weapon-style carrying box it comes packed in to the metal bars surrounding the mod is a spectacular device and it's clearly not intended for everyone. Even though it might seem bulky in size, surprisingly, the iTaste 134 mini has enough grip and feels quite nice to hold and use.
Not like the other variable APVs on the market, the iTaste 134 mini has only variable wattage and there's no variable voltage dial. You also don't get an LCD or any type of display, the only controls being the firing button and the wattage rotating dial. The wattage is adjusted by twisting a dial which is located above the control area. It's the same configuration as on other of Innokin's devices. The rotational wheel that lets you set the wattage at 7, 8, 8.5, 9, 9.5, 10, 10.5, 11, 12 or 12.5 watts.
The firing button has borrowed the glowing LED feature from other Innokin AVPs and through the four drilled dots you can check out the color corresponding to the amount of battery left: green, yellow or red.
The iTaste 134 mini comes equipped with a 510/eGo connector, which means that the device can be used with other 510/eGo compatible devices and accessories like the iClear10 and iClear16 along with other standard 510 units. It also features eGo style threading outside of the connector to give you greater choices of heating elements. On top of that there is a decorative ring that threads down over all of that with two additional air holes in it.
When it comes to functionality, excellence is the word to describe the mod's performance, providing the output wattage very close to what it has been set on the dial. It also includes a reverse polarity protection, shot circuit protection and a 10 second cut off.
The kit includes: 1x iTaste 134 mini mod; 1x iClear X.I. Glass BDC clearomizer; 1x metal tube for 18350 battery; 1x Beauty ring; 1x English Manual; 1x Luxury box;
Overall, it is one of the most impressive mini AVPs on the market and it really delivers incredible performance. The lack of an LCD screen and a variable voltage feature might be a drawback for some but in the end you're paying mostly for the looks and functionality and that's where this device shines.
RELATED REVIEWS: