IGO W3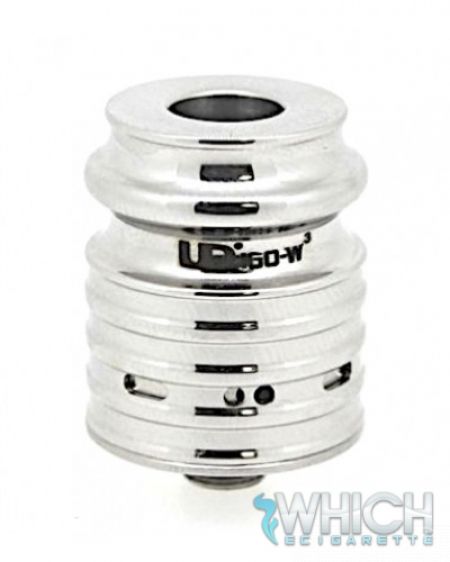 A 22mm device made from solid and high quality stainless steel, the IGO W3 from Youde is a state of the art rebuildable dripping atomizer with a lot of attitude. It has adjustable airflow and it's the perfect gizmo to try out your coil building capabilities.
It comes packed in a regular black cardboard box, nothing fancy, and inside you will find the W3, four wires to build your coils, four fiberglass wicks, an extra screw, an extra cap insulation ring, and two O-rings. One of the first things you'll notice is the deck configuration that comes with one positive post in the center and four additional negative posts surrounding it.
The airflow system is pretty interesting, as there are four long slots for any quad coil builds, and two slots for dual coils with two holes on each side. All the slots are adjustable and this means you'll be able to find a personal sweet spot regardless of the configuration or the mod you're using the IGO W3 with. You can do single coils, dual coils and even quad coils with this device and the posts have holes inside so that passing of the wires is done very simple. However, when you do use it in single coil mode, you can't actually have an airflow hole only on one side, therefore you'll lose a bit of the flavor.
The RDA is made of three parts: the recessed base that has two O-rings for a nice fit, the top cap and the drip tip. It has a total height of 30mm and combined with the base diameter of 22mm it will fit flush with any good quality mechanical mod or AVP out there. It comes with the popular 510 connection on the bottom, and the top hole will fit any type of drip tip that you like.
We've used the IGO W3 on our iTaste 134 MX-Z and it looks lovely. We have set up a dual coil configuration (which took around 10 minutes to build from start to finish) and used some Mint Chocolate e-liquid with 70% VG. The amount of vapor this baby produces is phenomenal, and it's such a great surprise from something that costs around $20. The resistance measured at around 1.2Ohms, so even though we didn't go for sub-ohming, we were more than impressed with clouds it puts out. It doesn't give as much flavor as some high end RDAs but it vapes like a beast.
Considering its price and versatility it's a great device for both beginners who want to experiment with their first coil builds and also veteran vapers.
RELATED REVIEWS: