VaporFi VOX Mini Starter Kit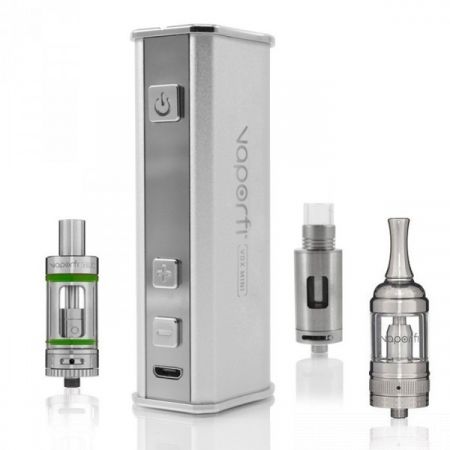 It's time to take the whole e-smoking experience to a whole new level because today we have one of the most versatile and powerful devices that can be configured to match any vaper's needs in close detail. The VaporFi VOX Mini Starter Kit includes the company's latest mid-range 40W compact box mod as well as one of three available tanks, every single one of them carefully designed for a different style of vaping.
We decided to go for the Volt Hybrid Tank and we received the unit packed separately and the mod packed separately. Inside the VOX Mini box we found the device itself, a micro-USB charging cable and the user's manual that we highly recommend you reading before using the mod for the first time. Very compact and lightweight, the device measures roughly 82mmx35mmx22mm and is made from high quality metal alloy with all the buttons, display and charging port located on the main side.
The VaporFi VOX Mini Starter Kit is powered by an internal 35A 2500mAh battery that's capable of delivering a massive amount of vapor when paired with the proper sub ohm tank. The Mini is a variable wattage advanced personal vaporizer and the user can set the desired power anywhere between 7.0W and 40.W in 0.1W increments. The beautiful OLED display is bright and generous, however it's a bit tricky to read in direct sunlight due to the glossy finish. It shows the t battery charge, output voltage, atomizer resistance and output wattage. The firing button is rectangular and very clicky and we didn't encounter any issues with it. It's very responsive and it's a real pleasure to use regardless if you're right handed or left-handed.
On the top side of the VOX Mini there's a spring loaded 510 connector and going down the main side we can see the firing button, display, the two adjustment buttons and the micro-USB charging port. On the bottom there are some venting holes for the battery and this tiny mod also includes a variety of safety features like short circuit protection, low voltage protection, and low resistance protection. It can be used while it's charging but we strongly recommend you not doing this because it puts a massive stress on the internal components of the device.
It has a featured called 'Auto Ohm Resistance Meter' which automatically finds the ideal voltage for your RBA / RDA or tank coil head depending on its resistance. And speaking about resistances it can fire as low as 0.3 Ohms and as high as 3.0 Ohms for the whole 7-40W range.
Given its small form factor and ease of use it's the ideal mod for both men and women and it would make a great gift for a loved one who wants to quit smoking. However if you don't have the necessary experience with building coils we would highly recommend going for the Rebel Tank or the Vice Sub Ohm Tank, which work with replaceable atomizer heads.
vox_mini_kit_4But in the hands of an experienced user, clearly the VaporFi VOX Mini Starter Kit is best used with the Volt Hybrid Tank, and mainly with the provided RBA section. This tank has a total capacity of 4.5ml of e-liquid and can work with either regular atomizer heads as well as with a Mini RBA base that requires user built coils and wicking. You will find everything you need to build your own coils inside the box from cotton and a screwdriver to a couple of pre-built coils to take as example. Using the RBA base is fairly easy once you get the hang of it and you'll be puffing out massive clouds in no time. Our experience with the VaporFi VOX Mini Starter Kit was extremely pleasant and this probably is one of the hottest mid-range vaporizers that we've tested so far. The user has the chance to pick a tank that's most suited for his or her vaping needs and regardless of choice, the performance will always be top notch.
RELATED REVIEWS: