Wismec Active 80W starter kit review - first vape mod with Bluetooth speaker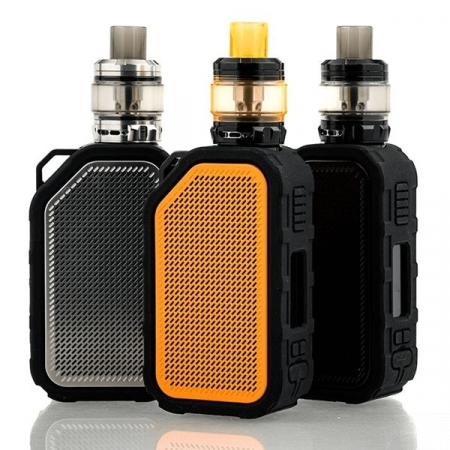 The Wismec Active 80W starter kit is the first vape device we tested that comes with a built-in Bluetooth speaker. And while it's a bit gimmicky, we have to give them credit for the idea and how they decided to implement it. This mod is ideal for the active, outdoorsy person who likes to go fishing, trekking, hiking, or camping. It is IP65 water and dust resistant and it's also able to withstand mechanical shocks. The included tank is a pretty solid performer and the overall build quality is really impressive.
What's included with the Wismec Active
The starter kit comes inside a black presentation box. With it you get the Wismec Active mod, the Amor NS Plus tank, a spare coil, a bag of extra O-rings, a hook, the user manuals and a warranty card.
Available colors for this device are: Silver, Orange, and Black and they all come with a black silicone band or bumper surrounding the mod.
If you've seen versions of this kit with different color bands, then you should know these are available separately. They come in Camo, Orange & Yellow and Blue & Yellow, with a resin like appearance.
Design of the Wismec Active mod
The Wismec Active box mod measures 94.5 x 55.6 x 26.6mm and weighs 170g. It has a spring loaded 510 connector on top, surrounded by a 22mm diameter protruding plate. We're not exactly sure why Wismec decided to go with this design element, especially since the included tank is a 27mm.
On the main side we have the fire button, the display, adjustment buttons, USB slot and reset button. On the opposing side we have the controls for the built-in Bluetooth speaker. The speaker is placed on the front of the mod, just under the grill insert. It's quite powerful and you can easily connect it to your phone, without any 3rd party app required.
Powering the Wismec Active device is a 2100mAh internal battery. And while this may be enough to ensure its maximum output of 80W, it doesn't allow that much music playback. As a matter of fact, we managed to get only around 2h of speaker time, without using the vape. If you plan on vaping and listening to music, then you're probably looking at one hour of battery life.
The hook lets you attach the mod to your backpack or belt and this is very useful when you are engaged in outdoor activities. It makes it the ideal travel companion, however we definitely recommend a power bank to enjoy its full potential.
The Amor NS Tank
Included with the Wismec Active kit we have the Amor NS Tank. This 27mm bad boy has a capacity of 4.5ml and it's built from stainless steel and acrylic. We're not exactly sure why they didn't use glass, but it does offer the tank a nice appearance. For vapers in Europe there's a 2ml version of this tank that replaces the 4.5ml tube.
Included in the box we hare two types of coils: the 1.3 Ohm mouth to lung version and the 0.2 Ohm direct lung version. Both these coils deliver good flavor and vapor, and we do recommend the 1.3 Ohm for better battery life. You can easily swap your regular 3mg e-juice with 6mg or even 12mg and go into MTL mode.
Performance of the Active 80W kit
The Wismec Active kit is ideal for outdoorsy vapers who enjoy listening to music. It comes with a built-in Bluetooth speaker and it's very rugged. It is resistant to water and mechanical shocks and it's powered by an internal 2100mAh battery. It has a maximum output of 80W and it is paired with a reasonably powerful tank.
This device also supports future firmware upgrades and features swap-able silicone cases that need to be purchased separately. It's more of a gimmick than something revolutionary vape-wise, but it gets the job done.
RELATED REVIEWS: