Wotofo Phantom Mechanical Mod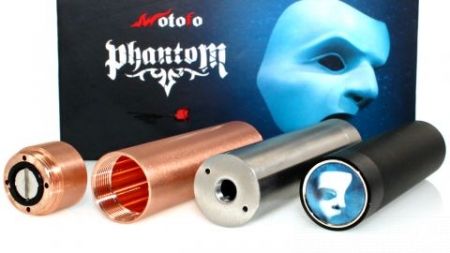 We are often asked to recommend what's the best budget mechanical mod one can buy these days and we often unanimously agree on the Wotofo Phantom. Wotofo is a Chinese company which probably started out as a clone manufacturer but slowly made the transition to authentic products, from RDAs and RTAs to electronic box mods and even their first ever mechanical mod. One thing you should know about this particular company is that they make some pretty good and affordable products out of very qualitative materials and with plenty of attention to details so we would always suggest going for an authentic vaping device rather than a clone.
Impressive artwork of the Phantom
The Wotofo Phantom has clearly been inspired by 'The Phantom of the opera' novel and it includes some pretty impressive artwork and design, especially that unique firing button. The device comes packed in a lovely black cardboard gift box with a mask on the top, and inside you will find the tube with the hybrid top cap mounted on top of it, an extra (regular 510 with contact pin) top cap, an authenticity card, a spare top cap contact pin, a spare gold plated negative contact spring, a spare Delrin adjustable negative ring, and one signature microfiber cloth for cleaning and polishing your mod.
Two top caps
So you get a great deal of goodies with this particular mechanical mod, but what makes it so special? Well, the first thing is that it comes with two top caps – a regular one and a hybrid one which accounts for more versatility. If you are a beginner then we definitely suggest you using only the standard top cap for a while until you become familiar with mechanical mods, building your coils and determining the required battery Amps and leave the hybrid cap for later.
Hybrid cap works with 510 connectors
The hybrid top cap is intended to be used with atomizers that have a protruding 510 connector, in order to make direct contact with the positive pole of the battery. This ensures a minimum voltage drop and it makes the mod hit a lot harder than with the regular top cap, however it also increases the risk of accidentally short-circuiting the battery when used improperly. So, again, only use the hybrid cap if you're familiar with mechanical mods and the way batteries work.
The Wotofo Phantom also comes with two gold plated springs for you firing button, each of them having a different tension. You can easily replace them so that the fire button feels smoother or stiffer, depending on your personal preference. And speaking about the firing button, it comes with the phantom holograph-like glass/rubbery logo that gives it such an unique vibe. On the interior it has a Delrin ring which can be adjusted for battery rattle and all the contact pins are made from rhodium plated copper.
Some final words
The mod comes in a variety of colors – from the original black, stainless and copper to beach blue, white and even several black with pink, green and blue splattered combinations. It feels incredibly solid and the threads are buttery and flawlessly machined. It's a bit tricky to adjust the regular top cap for both battery rattle and contact with the atomizer because you always need to find that 'sweet spot' of perfect balance but it only takes a couple of minutes. The Wotofo Phantom is 22mm in diameter and has a total height of around 92mm with the regular top cap (and around 89mm with the hybrid cap).
It is powered by a single 18650 battery and we do recommend using a high drain model from a respectable brand.
Paired with an RDA like the Kennedy it produces massive clouds and it hits just perfectly. Considering the price tag of around $45 this is probably one of the cheapest well performing mechanical mods that we've tested in the last months so if you're looking for a great budget mod the Phantom is one of the best.
RELATED REVIEWS: